Big 12 News
Spencers Sanders Predicts Oklahoma State vs. TCU Rematch for Big 12 Championship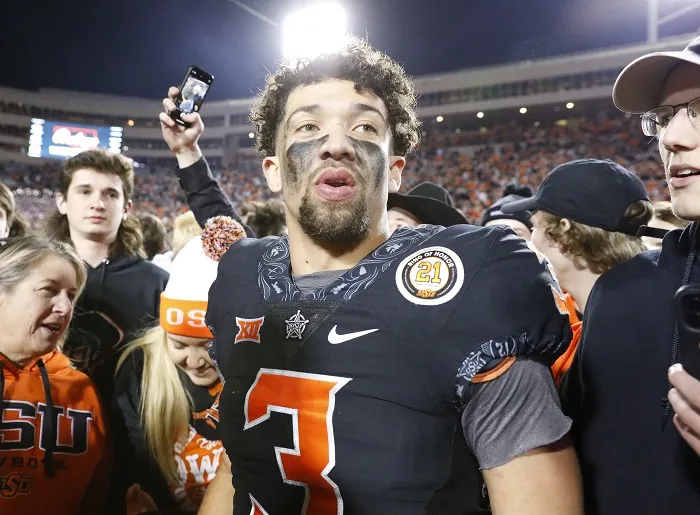 The Oklahoma State Cowboys lost a heartbreaker to TCU in Forth Worth on Saturday. Oklahoma State led 24-7 in the second quarter and 30-16 in the second half before losing 43-40 in double overtime.
For Oklahoma State, it was their first loss of the season to fall to 5-1, while the Horned Frogs improved to 6-0.
However, OSU quarterback Spencer Sanders certainly didn't seem down in any way after the game, in fact, he predicted the two teams would see each other again at the Big 12 Championship in December.
"This game is behind us. Nothing we can do now. We'll meet them in Arlington," Sanders said following the loss.
There has been plenty to critique about this game, notably on offense, where Mike Gundy and offensive coordinator Kasey Dunn appeared to get too conservative one they got up by three scores.
Dunn basically admitted as much after the game, saying, "I wish we could have put the hammer down and finished it. I'm really disappointed in myself and what we did on offense. We've got to find a way to finish that thing off. We had some chances in there; we just didn't move the ball well enough in the second half."
But for Oklahoma State, if they want to reach that Big 12 Title Game, they can't look in the rearview mirror, as the Cowboys welcome in the Texas Longhorns for another ranked match up in a league that has no off weeks.
And for those wondering, incase OSU fans are that confident in Spencer Sanders' comments, the Big 12 Championship Game is set for Saturday, December 3rd, at 11:00 a.m. from AT&T Stadium.