Football
TCU Leads Four Big 12 Teams in Latest AP Top 25 Poll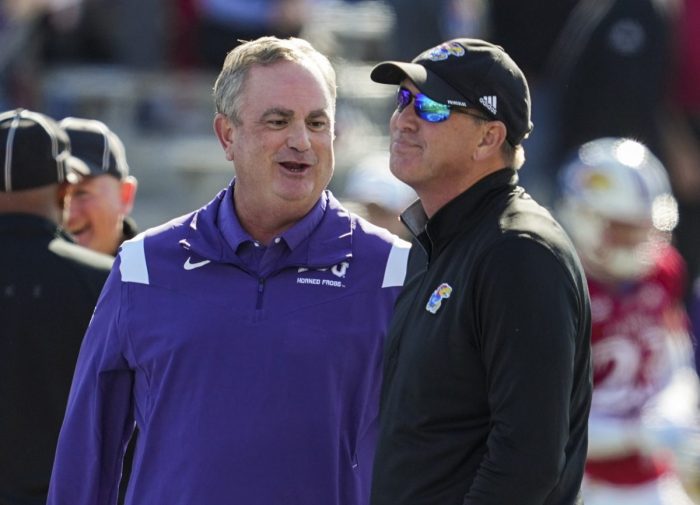 The TCU Horned Frogs leaped into the AP Top 10 after their double-overtime victory over the Oklahoma State Cowboys when the new AP Top 25 came out on Sunday.
The Horned Frogs (6-0) beat the Cowboys (5-1), 43-40, in double overtime on Saturday. With the win, the Horned Frogs moved to bowl eligibility and went from No. 13 to No. 8 in the AP Poll. This is the first time that TCU has beaten three straight ranked teams.
TCU will get the chance to make it four straight this weekend when it hosts Kansas State in a battle of the two remaining undefeated teams in Big 12 action. The Wildcats were idle last weekend but held steady at No. 17.
Oklahoma State, which absorbed its first loss of the season, moved out of the Top 10, dropping three spots from No. 8 to No. 11.
Texas is the fourth Big 12 team in the Top 25, as the Longhorns defeated Iowa State and moved up from No. 22 last week to No. 20 this week.
For Kansas, the ride in the AP Top 25 is over. The Jayhawks fell to Oklahoma, marking their second straight loss, and fell out of the poll. The Jayhawks did receive 12 votes despite the two-game losing streak.
AP Top 25 Football (as of Oct. 16, 2022)
No. 1 Georgia, No. 2 Ohio State, No. 3 Tennessee, No. 4 Michigan, No. 5 Clemson, No. 6 Alabama, No. 7 Ole Miss, No. 8 TCU, No. 9 UCLA, No. 10 Oregon, No. 11 Oklahoma State, No. 12 USC, No. 13 Wake Forest, No. 14 Syracuse, No. 15 Utah, No. 16 Penn State, No. 17 Kansas State No. 18 Illinois, No. 19 Kentucky, No. 20, Texas, No. 21 Cincinnati, No. 22 North Carolina, No. 23 NC State, No. 24 Mississippi State, No. 25 Tulane.
Fell out of Top 25 (Big 12): Kansas
Also receiving votes (Big 12): Kansas, 12.
You can find Matthew Postins on Twitter @PostinsPostcard