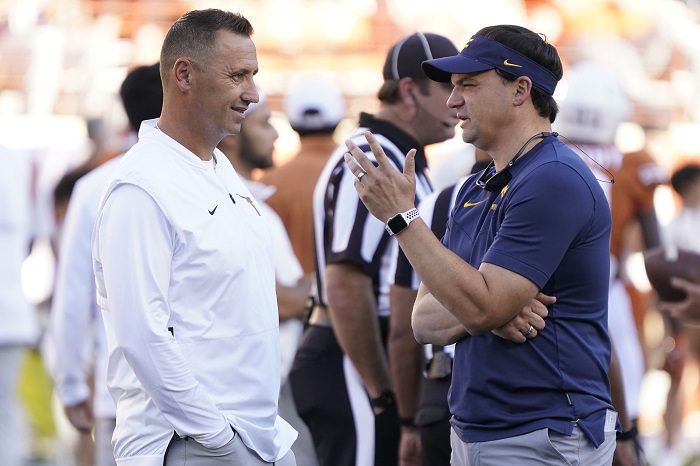 The 2022 college football season wrapped up Week 6 and the Big 12 is officially in conference play. There were four games this weekend, which started on Thursday night when West Virginia beat Baylor at home, Oklahoma picked up its first Big 12 win against Kansas, Texas held off Iowa State and TCU came back to beat Oklahoma State.
So now it's time for our Big 12 Power Rankings. Here's a reminder on how I've done this for years: It's about how your team looked and how it played, not always about if your team won or lost. And last week's rankings have little impact on this week's. That's what makes this fun. These are also not predictions for the way the season will end, just a Power Rankings based on the most recent performances.
1. TCU Horned Frogs (Last Week: 2)
The TCU Horned Frogs came back at home and beat Oklahoma State on Saturday to remain undefeated and move into the Top 10 of the AP Poll this week. TCU looks like a completely different team under Sonny Dykes compared to the one Gary Patterson was running in recent years. Can you imagine Gary's team in the last couple of seasons coming from down 24-7 to win the game? I can't. Dykes has the program re-energized and refreshed, which is great to see for the team and this fan base.
2. K-State Wildcats (Last Week: 1)
K-State moves down one spot since they were idle last week. But here's the thing: It doesn't matter. TCU and K-State play each other this weekend, so whoever wins the game will be No. 1 next week. And maybe since the No. 1 spot has been a curse at times this season, K-State fans prefer sliding down to No. 2 this week.
3. Texas Longhorns (Last Week: 5)
The Longhorns keep moving up after another solid win over Iowa State. Don't kid yourself, Iowa State is not your standard 0-4 team in conference play. They are a couple of plays away from being 3-1 in the conference. And Texas didn't play its best game, but they won ugly, something any team has to do if it wants to win a conference title. That's exactly what the Longhorns accomplished on Saturday.
4. Oklahoma State Cowboys (Last Week: 3)
The Cowboys lost their first game of the season on Saturday. What's to blame? Some would say Mike Gundy's conservatism. Others would credit TCU. However, it's hard to look at the play-calling after OSU went up 24-7 and not wonder if the Pokes were trying to run out the clock with over 30 minutes left. No doubt OSU can and will remain in the hunt for a Big 12 Title, as Spencer Sanders predicted, but blowing this kind of a lead will sting for some time. The good news is Texas is on deck and that will hopefully re-focus the program quickly ahead of Saturday.
5. Kansas Jayhawks (Last Week: 4)
Kansas is trending in the wrong direction after losing for a second-straight week against Oklahoma. Kansas has given up 90 points its last two games. And while Jason Bean has filled in as the back up quarterback admirably, KU can't lose its starting QB in Jalon Daniels and play this kind of defense and expect to win many more Big 12 games.
6. West Virginia Mountaineers (Last Week: 9)
Neal Brown needed that one last week. The Mountaineers are back in the win column after a wild win over Baylor at home on Thursday night. WVU has played one of the toughest schedules in college football this season, but need to build off that momentum on Saturday in a winnable game against Texas Tech this weekend if the Mountaineers want to reach bowl eligibility.
7. Texas Tech Red Raiders (Last Week: 7)
Texas Tech is the only team to stay in the same spot as last week. The Red Raiders were idle, but it's just luck of the draw that Tech ends up in the No. 7 slot this week given all the upheaval in this conference.
8. Oklahoma Sooners (Last Week: 10)
Well, the Sooners are into the win column in Big 12 play for the first time this season after beating Kansas on Saturday. It's amazing what having your starting quarterback will do for a team. Yes, there are still plenty of concerns on defense and all is not necessarily well, but they picked up the win and now it's the bye week in Norman.
9. Baylor Bears (Last Week: 6)
Baylor comes in at No. 9 after losing to West Virginia in Morgantown on Thursday night. The reason Baylor comes in at No. 9 is that their only Big 12 win this season is over the No. 10 team this week. They could have left Morgantown with a victory, but turnovers really hurt them. And giving up 5.9 ypc against a mediocre running game wasn't good either.
10. Iowa State Cyclones (Last Week: 8)
The Cyclones fell to 0-4 in the conference on Saturday losing to Texas. However, Iowa State is a couple of plays away from being 3-1 in the Big 12. But that's this conference this season. A mistake here or there and you can go from conference contender to the basement. It's ruthless, and Iowa State is learning that the hard way right now.