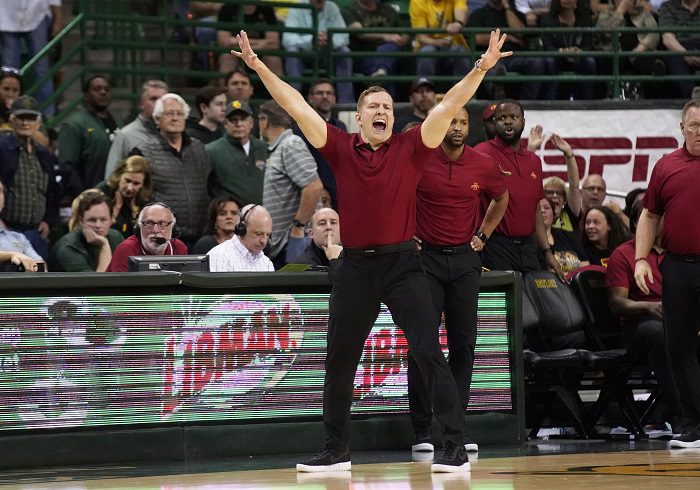 Big 12 Men's basketball media day is set for T-Mobile Arena in Kansas City, Mo., on Wednesday. Heartland College Sports will be on site for the event. Here's one question we're hoping to ask each coach about their team.
Baylor
Can these high-profile recruits co-exist? L.J. Cryer is back from injury. Langston Love will be, too. Keyonte George is entering the program. Together, the trio represent three of the crown jewels of coach Scott Drew's last three recruiting classes. We're not sure anyone expected all three to be on the same team at the same time. How are they getting along? Are the touches there for all three? Maybe Drew has an answer.
Iowa State
What are the expectations for Year 2? Iowa State exceeded expectations, reaching the Sweet 16 under coach T.J. Otzelberger. But the player the Cyclones were set to build around, Tyrese Hunter, transferred to Texas. Plus, several talented pieces saw an end to their eligibility. Otz has already lost one talented player for the season. Can he and the Cyclones return to the NCAA Tournament? Our guess is he's going to say yes.
Kansas
Can this team defend the national title? It's an obvious question. But coach Bill Self is trading the experience and talent of last year's team for just the talent of this year's team. These Jayhawks are undeniably talented, but outside of Jalen Wilson and transfer Kevin McCullar, they need seasoning. Can Self get them where they need to be by March?
Kansas State
Is K-State Iowa State 2.0? As noted, last year Otzelberger turned around a two-win Iowa State team and took them to the Sweet 16. Former Baylor assistant Jerome Tang is taking over at Kansas State for Bruce Weber, who lost all but two players from last year's team. Can he make the Wildcats a success story similar to Iowa State?
Oklahoma
Is this an NCAA Tournament team? Last year, coach Porter Moser and the Sooners felt a little dissed by the NCAA Tournament committee and ended up as a top seed in the NIT. This year? The Sooners may have lost more talent than they gained, but the Groves brothers — Tanner and Jacob — are still in town. Does Moser believe this team has the makings of a team that can get back to March Madness?
Oklahoma State
Just how ready are the Cowboys to kick butt? Last year Oklahoma State sat out the postseason due to NCAA sanctions for violations that happened four years ago. Coach Mike Boynton Jr. wasn't happy about it. But, he's returning basically the same team from a year ago and they may be itching for a fight. Many think the Cowboys can get back to the NCAA Tournament. Just how motivated is OSU to get back there?
TCU
Are the Horned Frogs ready for the expectations? There has never been more attention on the TCU men's basketball program. Nearly the entire roster is back. Mike Miles Jr. is the Preseason Big 12 Player of the Year. The Horned Frogs are a trendy team projected for a deep NCAA Tournament run. Coach Jamie Dixon is used to this from his time at Pitt. TCU? Not so much. Can the Horned Frogs handle the heat?
Texas
Can Chris Beard work the chemistry set right? Last year Beard inherited a ton of talent and brought in a ton of talent. But, the pieces didn't … quite … fit. Now? Pretty much all of former coach Shaka Smart's talent is out the door, and this is Beard's program. Timmy Allen and Marcus Carr came back and the Longhorns lured ISU star Tyrese Hunter to town. Is this a better combination for Texas to not just get to the NCAA Tournament and win a game, but to get deeper in March Madness?
Texas Tech
When is Farwads Aimaq coming back? No offense to Daniel Batcho, who is getting rave reviews at center in Red Raiders camp. But Aimaq, the Utah Valley transfer, was one of the biggest gets of the transfer season. When will he return from a broken foot? Will coach Mark Adams put a timetable on it? It's a natural question.
West Virginia
What is Bob Huggins working with? The Mountaineers will look nothing like last year's team. There is little measurable experience returning. WVU managed to lure back a former player in Emmitt Matthews Jr. Transfers Erik Stephenson and Tre Mitchell are the only players on the roster who have averaged double figures in a season at a Division I program. The Mountaineers showed off their talent at the Blue and Gold Debut. But is that talent Big 12 ready? Huggy is bound to have a good quote or two.
You can find Matthew Postins on Twitter @PostinsPostcard