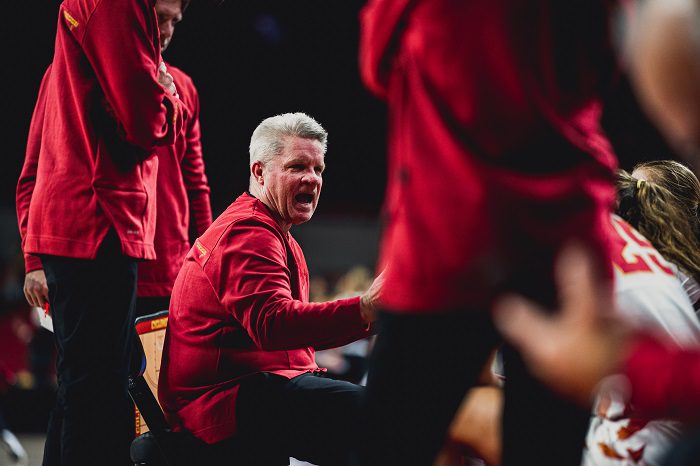 Big 12 Women's basketball media day is set for T-Mobile Arena in Kansas City, Mo., on Tuesday. Heartland College Sports will be on site for the event. Here's one question we're hoping to ask each coach about their team.
Baylor
Is there another NaLyssa Smith lurking in Waco? The Bears won the Big 12 regular-season crown with Smith earning Big 12 Player of the Year honors. Losing her, along with Queen Egbo and Jordan Lewis, leaves significant holes in the lineup. We don't expect coach Nicki Collen to anoint a successor to her star forward. But, we're hoping she has an idea of which player — or players — are up to taking on the assignment.
Iowa State
Can Stephanie Soares make an impact? Soares is making the jump from NAIA to Division I basketball in one year. She averaged a double-double and was a two-time NAIA Player of the Year. She gives the Cyclones the one thing they really need — height. She's 6-foot-6. Is she ready to assume a starting spot inside and take some of the rebounding pressure off of Ashley Joens?
Kansas
Are the Jayhawks ready for a Sweet 16 run? Kansas made its first NCAA Tournament appearance under coach Brandon Schneider and beat Georgia Tech in the first round. Kansas didn't lose much from last year's team and added a key transfer in Tulsa's Wyvette Mayberry. Is KU ready for a deeper run in the NCAAs?
Kansas State
What will K-State do without Ayoka Lee? The center is out for the season after knee surgery. She'll be back in 2023-24. But, for now, the Wildcats have to figure out life without playing through their best player. We're curious to see what coach Jeff Mittie has cooking in the playbook.
Oklahoma
Will the Sooners get better on defense? No questions about OU's offense, especially with most of the team coming back (and Iowa State sharpshooter Aubrey Joens transferring in). But can Oklahoma get a little better on defense, especially in key situations? It could mean the difference between reaching the NCAA Tournament and a deep tournament run.
Oklahoma State
What is this team's identity? New coach Jacie Hoyt has a ton of new talent and a few holdovers from last year's team. Will this be an offensive-minded program? Defensive-minded? Or a work in progress? It will be Hoyt's job to establish that identity early.
TCU
Is Raegan Pebley on the hot seat? It's not a comfortable question to ask a coach. But, TCU won six games last season, saw the majority of the program's players transfer out, and its leading scorer, Lauren Heard, graduate. Pebley hasn't taken TCU to the NCAA Tournament since she arrived in 2014 and hasn't been to the WNIT since 2019. Is she feeling the heat?
Texas
Is this the Final Four year? Texas coach Vic Schaefer has elevated Texas back to the upper echelon of women's college basketball and has taken the Longhorns to the Elite Eight each of the last two seasons. What will it take for him to kick the door down the way he did at Mississippi State? Does he have the team to do it?
Texas Tech
What now without Vivian Gray? For the two seasons after she transferred Gray defined Texas Tech basketball in so many ways, not the least of which was her ability to lead the team in scoring. Without her, who takes the mantle? Hopefully, coach Krista Gerlich has an idea.
West Virginia
Is Dawn Plitzuweit ready to roll in Year 1? The former South Dakota coach has been part of a Power 5 program as an assistant coach, but not as a head coach. She's coming off leading South Dakota to a 29-win season and a berth in the NCAA Tournament's Sweet 16. What has her optimistic about getting the Mountaineers back to the postseason? We hope to find out.
You can find Matthew Postins on Twitter @PostinsPostcard