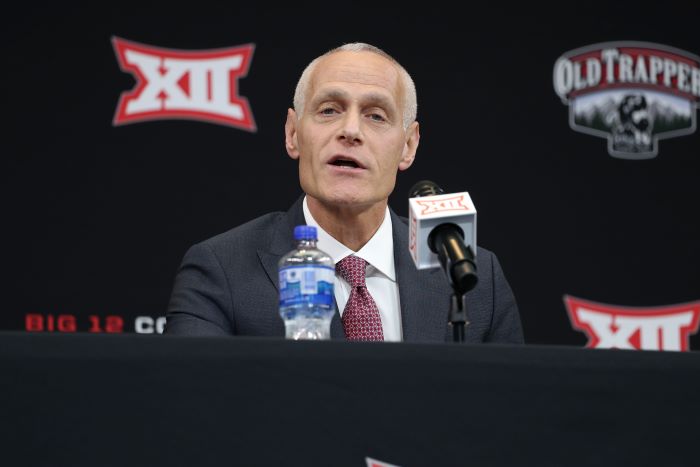 KANSAS CITY, Mo. — Big 12 commissioner Brett Yormark said on Tuesday that "my gut" tells him that a TV deal with ESPN and Fox would get done before the exclusive negotiating window in 16 months.
Yormark made the comment during an interview at Big 12 Women's Basketball Media Day.
Recently, Yormark started having discussions with the Big 12's current rightsholders, ESPN and FOX, about a new contract. He said those discussions last week were meaningful, but he expanded on what those conversations last week really meant.
"Initially, it was all about is this something we want to pursue?" he said. "Is there a desire to get to the table and see if we can do an early extension? I think on both sides, the answer to that question was, yes, Everyone's motivated. The question is, can we get to a deal? And I have some parameters in place that I'm looking for. and we'll see if we can get there. If we can't, we'll wait 16 months, and then ultimately go into that exclusive negotiating period. My gut tells me we get something done before that."
Yormark didn't directly address revenue share among the league's members going forward. But he did address rumors that the league's distributable revenue would fall back after the departures of Oklahoma and Texas for the SEC. He said he expected that revenue to go up, even with the losses of those two programs.
"Let me say very clearly, we're not going backwards and we're not staying flat," Yormark said. "We're going up the question is how far up? So we will grow revenue. When you think about our multimedia rights deal. But beyond that, we need to diversify our revenue."
Yormark made clear that while the discussions have been meaningful, it doesn't signal that there's an imminent contract with either entity, or that he's talking with anyone else.
"So (the conference) is not a free agent," Yormark told AP last week. "I can't go out there and talk to an Amazon or an Apple or CBS. But in a world that's changing, why don't we explore an early conversation which could, maybe, lead to a negotiation? And I can tell you that we've had meaningful conversations for the last three-plus weeks, and we'll see where they go."
The Big 12's exclusive window for negotiation with ESPN and Fox starts in February of 2024, with its current deal set to expire in June of the same year.
Meanwhile, the Pac 12 Conference, which is looking for a new TV contract amid the future departures of USC and UCLA to the Big Ten, have had two exclusive negotiating windows with ESPN with no deal reached.
Yormark appeared on ESPN College Gameday when it paid a visit to Lawrence, Kan., for the Kansas-TCU game a few weeks ago and talked about the success the conference has had so far this season.
"When you just think about the season, the parity, ratings are up, attendance is up," Yormark said. "Today, three of our four games we have ranked opponents competing. It's just a great time for this conference and we're excited about where we are going."
You can find Matthew Postins on Twitter @PostinsPostcard