Baylor Bears
Five Biggest Takeaways From Big 12 Women's Basketball Media Day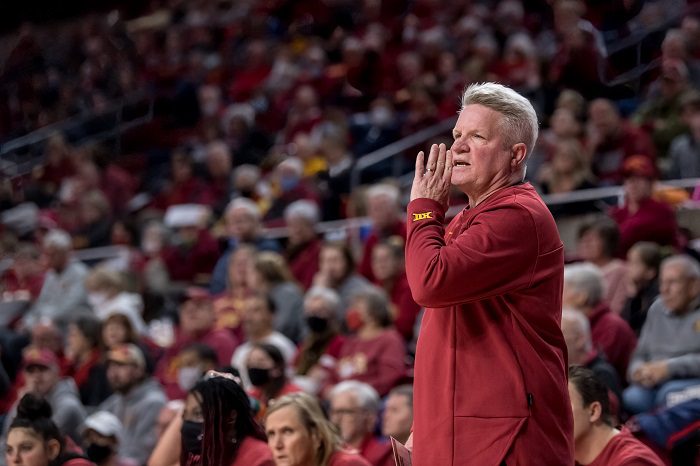 KANSAS CITY, Mo. — Big 12 Women's basketball media day was Tuesday at T-Mobile Arena in Kansas City, Mo.. Heartland College Sports was site for the event. Here are five takeaways from the day.
1. 'We're an old league'
Iowa State is a highly experienced team, led by fifth-year senior Ashley Joens. But, Oklahoma returns nearly its entire roster from last year, including guard Taylor Robertson and forward Madi Williams, who are playing on COVID-19 eligibility. Plus, Kansas returns nearly its entire roster after reaching the second round of the NCAA Tournament.
Other teams, like Texas and Baylor, have gotten older by taking in key transfers through the transfer portal.
Cyclones head coach Bill Fennelly has noticed, and he thinks it will make for an intense Big 12 race, where the Cyclones were slightly favored over Texas in the preseason Big 12 coaches' poll. The Cyclones are also ranked No. 8 in the AP Top 25 preseason poll.
"Our league is old," Fennelly said. "And when the league is old, it can be really, really good. I vote on the (USA Today) Top 25 poll and I have five (Big 12) teams I voted in the Top 18. And I didn't do that just because I coach in the big 12, I honestly believe it. So I think people are gonna enjoy what they see here."
2. Without Ayoka Lee
Kansas State head coach Jeff Mittie addressed the elephant in the room right away, that center Ayoka Lee won't be back for the 2022-23 season after knee surgery. Mittie acknowledged that the Wildcats must play differently this year, saying "we lost a great player on both ends of the floor."
"Balance on offense is going to have to be a key," Mittie said. "We talked about needing to shoot the 3-pointer, regardless, and we've improved in that area and we recruited well there. We like our freshmen. We think those pieces are better. Defensively, we're going to have to defend the paint differently."
That means more reliance on some of the perimeter talent returning, including guards Serena Sundell and Rhyle McKinney, who were in Kansas City.
Kansas State won 20 games last season and won its first-round NCAA Tournament game, as all six Big 12 representatives won their first-round NCAA games last March.
3. Jennie Baranzcyk, part-time post
Oklahoma put together a recruiting class that includes 6-foot-3 center Beatrice Culliton and 6-foot-4 Kiersten Johnson. OU head coach Jennie Baranczyk admitted that the Sooners needed a little help in that department. At times, forward Madi Williams — who is 5-foot-11 — worked the boards, along with 5-foot-11 Skylar Vann and 6-foot-2 Liz Scott.
So, Baranczyk expects Culliton and Johnson to make an impact. It also has an additional benefit.
Baranczyk, who played forward at Iowa, doesn't have to work as a center in workouts … as often.
But, given OU's success last year, there's a part of Baranzcyk that doesn't worry so much about the size.
"We have some size in our freshman class," Baranczyk said. "And I think that's really important. And I also think that, you know, we kind of don't really care that we're a little bit too small sometimes, that we're a little not this or we're a little not that. The way that we play, I think, is amazing."
OU is coming off a trip to the second round of the NCAA Tournament and is ranked No. 15 in the AP Top 25 preseason poll, which is the highest the Sooners have been ranked in the preseason poll in nearly a decade.
4. Texas' charging mentality
Texas coach Vic Schaefer knows how to take a charge. In fact, he recently decided to prove it during a Texas, practices, stepping into a drill to demonstrate what he wanted out of his players.
Of course, all demonstrations come with a price.
"I've been wondering why my neck hurts," Schaefer joked.
But, defense is something that Schaefer demands from all of his players. It's one of the reasons why sophomore guard Rori Harmon decided to come to Texas and one of the reasons why Texas has reached two straight Elite Eights in the NCAA Tournament.
"I mean, you play how you practice," Texas guard Shay Holle said. "So I think that's always our goal. We need to show coach how we can play defense in practice if you want him to have confidence in us on the court. So yeah, taking a charge is a big part of that. I think all of us can attest to that. If you're there, you better take the charge."
Texas is No. 3 in the AP Top 25 preseason poll.
5. 'We have to own the underdog role'
Baylor women's basketball, underdog.
Yep, Baylor coach Nicki Collen actually said that during her time with the media on Tuesday.
The reasons were many. A roster that, while it has more players than last season, doesn't have Big 12 Player of the Year NaLyssa Smith. New players from the transfer portal that will give this team a different look. The rise of programs like Kansas and Kansas State, and the continued quality of programs at Iowa State and Texas.
The Bears were not the pick in the Big 12 preseason coaches' poll. The Bears were also the lowest-ranked Big 12 team in the preseason AP Top 25 poll on Tuesday at No. 18.
Baylor forward Caitlin Bickle said she didn't "care" where the Bears were ranked. Doesn't sound like Collen does either.
In fact, she's ready to embrace a role Baylor isn't used to.
"I think we have to own the underdog role a little bit this year and this idea that, you know, we're going to have to put the pieces together we're going to continue to, as cliche as it sounds, trust the process to really grow individually and collectively," Collen said.
You can find Matthew Postins on Twitter @PostinsPostcard