featured
Tirade Tuesday: Big 12 Officiating Needs to Focus on Clarity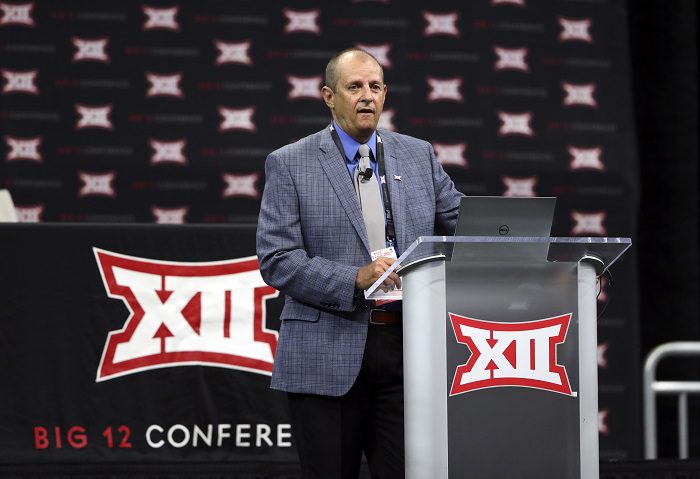 Alright, folks, it's time to talk about the uncomfortable side of college football for a bit. College football officials are supposed to have no impact whatsoever on the outcome of a contest. They are simply there to manage the game and insure player safety and fairness of the contest they are overseeing.
Unfortunately, the Big 12 has seen several games this year end with officials being the focus of scrutiny and malice from one fanbase or another.
Here are the latest examples in the saga, and examples of why things must change in the Big 12 officiating office.
The Hunter Dekkers Debacle
Over this past weekend, there were several issues that left bad tastes in fans' mouths following Big 12 contests. First of all, was the controversial hit on Iowa State quarterback Hunter Dekkers that effectively ended the game, sending the Texas Longhorns out as 24-21 victors. Here's a look at the hit.
Following the conclusion of the game, Iowa State head coach Matt Campbell was visibly upset and had this to say when asked about the officiating.
"Nobody knows, and that's the problem, ok? The question was is he down? Is it targeting? They said they were only reviewing targeting. The fact is it looked like his knee was down. I'm sure it's like anything else and we'll get no clarification."
Afterwards, the Big 12 Conference released a ruling on the review of the play and admitted that there was confusion among the referees.
Substitution Issues in Fort Worth Showdown
There was another officiating debacle last weekend in Fort Worth, where TCU took down Oklahoma State 43-40 in double-overtime. As there have been in nearly every game this year, there were blatant missed calls throughout the game, but this debacle had more to do with substitution issues.
As coaches have done for years, Oklahoma State's defense subbed late after TCU's offense subbed late in the first half — an opportunity by rule that the defense is afforded when the offense makes a substitution.
TCU head coach Sonny Dykes had a meltdown of epic proportions about the issue and absolutely lost it with the officials in the first half.
Then, after halftime, ESPN's Molly McGrath reported that the officials consulted Mike Gundy and counseled him that OSU must make quicker substitutions, despite there always being a rule in place that the defense has the opportunity to sub late if the offense does so. In the second half of the game, officials started to call penalties for late substitutions on Oklahoma State's defense. TCU would snap the ball as a defensive player was coming off the field and a subsequent penalty would follow, with offsides being the call. It was an utter ignorance to the rules by the officials.
"It's kind of a train wreck," Mike Gundy said postgame of the situation. "I'm not saying whose fault it is. I'm just not clear on what's going on, to be honest with you."
"It's a combination of a lot of things," he added. "There needs to be some clarity on how it's supposed to work now. Then we have to be better as coaches in the adjustment as we go on throughout the game."
What Needs to Happen
Look, I have no dog in either of these races. I'm not a rabid fan that believes that the Big 12 officials have money on the outcome of games or wants one team to win over another. However, I do take an issue with the officiating nonetheless.
There is an utter lack of clarity and conciseness among Big 12 officials right now that cannot be ignored. When it has become a weekly issue, its not hard to see that something needs to change.
The main issue right now is that the Big 12 Conference is dealing with a lack of experience at the referee position. According to Football Zebras the Big 12 lost four white-hats with a combined 42 years of experience at the position after the 2019 season. Greg Burks, the Big 12 Coordinator of Football Officials, was tasked with replacing Cooper Castleberry (19 years), Mike Defee (14 years) and Eddy Shelton (nine years) who all retired, and Reggie Smith, who left the Big 12 for the Big Ten.
This led to the Big 12 hiring Tuta Salaam, Michael Vandervelde, Kevin Hassell, and Kevin Mar as its new referees, three of whom lacked referee experience in a Power Five conference.
Point being, the Big 12 lacks experience with its referees right now, and that will just take time to sort itself out. There needs to be an emphasis on clarity with officiating crews right now, as the returns from Big 12 coaches suggest that there jsut isn't any right now. That isn't a formula for success, and unless that changes, we will continue to see debacles like we have all year long.
One of these days, we will have a weekend of Big 12 football that doesn't have a contested call or officiating decision at the center of the conversation come Monday, but I'm afraid that might be a long time from now.