Baylor Bears
Big 12 Football Bowl Projections Entering Week 8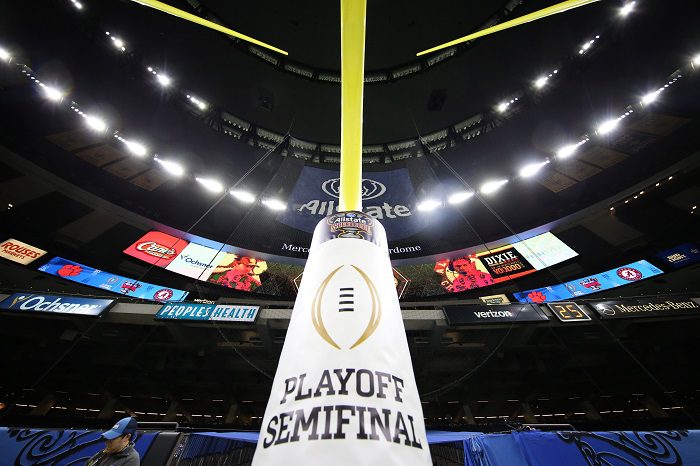 Even though we are just seven weeks into the college football season, that doesn't mean we can't look ahead to what the future may hold. There are still plenty of important games to get through and a whole lot of season left, but it is never too early to start thinking about the postseason.
Jerry Palm from CBS Sports recently released his latest college football bowl projections. It is always interesting to see how things change from week to week but here is what he currently has listed for the Big 12.
Sugar Bowl
Oklahoma State vs Alabama
I was a little surprised to see Oklahoma State still take the top bowl spot on the list after their loss to TCU on Saturday. With that said, I have no complaints about Mike Gundy and Oklahoma State getting a shot at Nick Saban.
Alamo Bowl
TCU vs UCLA
TCU always finds magic in the Alamodome, but I believe this team can do better than the Alamo Bowl. If they keep playing at a high level than I wouldn't be shocked to see them in the Sugar Bowl or in another NY6 bowl game.
Cheez-It Bowl
Texas vs North Carolina
Texas getting back to a bowl game is a step in the right direction, but take a look their opponent here. The head coach at North Carolina is none other than former Texas head coach Mack Brown. While Cheez-Its are delicious, they would be taking a backseat to the Mack Brown storyline here.
Texas Bowl
Kansas State vs Texas A&M
It's been a few years, but these two programs played against one another in the Texas Bowl. While Texas A&M is still stuck in SEC mediocrity, Kansas State has bigger plans than this bowl game. If the Wildcats win on Saturday, they will position themselves into a better spot.
Liberty Bowl
Baylor vs Florida
It wasn't that long ago that Baylor was projected to be in the Sugar Bowl. Since then, this team has lost three times and now finds themselves in a sub-par bowl game. I am not here to clown on Memphis, but the Liberty Bowl is far from the Sugar Bowl. Although, putting a beat down on Florida would be big for Dave Aranda.
Guaranteed Rate Bowl
Oklahoma vs Wisconsin
Speaking of falling down the list, here are the Oklahoma Sooners. At one time, they were in a college football playoff spot and here they are all the way down in the Guaranteed Rate Bowl. This program hasn't played in a bowl game this bad since the 2014 Russell Athletic Bowl where Clemson blew them out 40-6.
First Responder Bowl
Kansas vs Ball State
I honestly thought that Kansas could potentially get a bid for the Texas Bowl or the Liberty Bowl, but the Jayhawks haven't been the same since quarterback Jalon Daniels went down. While it is still big for this program to get back to a bowl game for the first time in over a decade, it is a little saddening to see them here after a 5-0 start to the season.
Frisco Bowl
Iowa State vs Fresno State
At this point, Iowa State fans don't care which bowl game they make it to as long as they get to one. It's been a rough season in Ames after a 3-0 start to the year because they are now 0-4 in Big 12 play. Iowa State has five games left and will need to win three more to become bowl eligible.