Big 12 News
Big 12 Tournament Ticket Prices To Go Up, Says Brett Yormark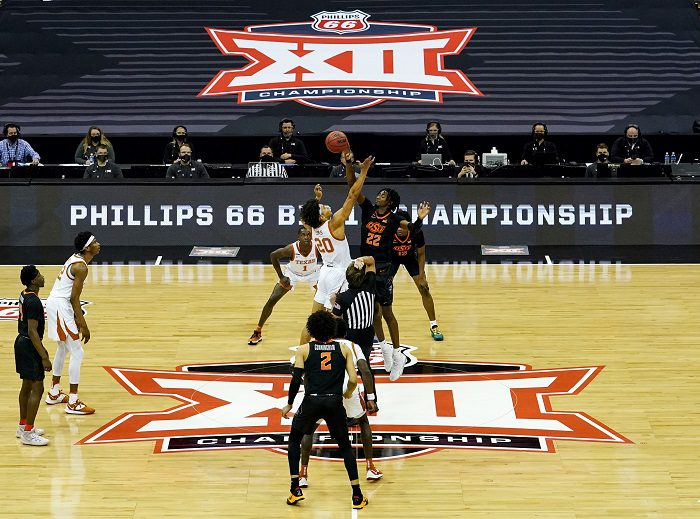 KANSAS CITY, Mo. — Big 12 commissioner Brett Yormark said the Big 12 remains committed to Kansas City for the men's and women's basketball tournaments through the contract in 2027.
That doesn't mean there won't be changes when fans attend the tournaments next March, specifically at T-Mobile Center.
For one, Yormark announced that ticket prices for the event will go up. He did note that ticket prices for the Big 12 Tournament have not gone up for a decade. He did not announce any specific pricing on Tuesday.
Other things may change too. He said the league will be looking at the type of music it plays between games and during timeouts. Plus, if you're a fan of seeing the media on the sideline, well, that's going away too. He announced that the media, which normally sits on the floor to cover the tournament, will be moved in favor of courtside seating for fans.
"We're going to provide some premium hospitality offerings for the first time here," Yormark said, without going into specifics. "So you're going to see a difference."
The Big 12's extension with Kansas City for the tournament was signed before Yormark officially took over as commissioner on Aug. 1, replacing Bob Bowlsby. And while he's looking for ways to elevate the reputation of the league, he has no intention of messing with what appears to be a good thing in Kansas City.
He said he's looking forward to his first Big 12 Tournament this coming March.
"I've heard wonderful things about this tournament, and for the foreseeable future, we'll be here," Yormark said.
The city has hosted the men's tournament since 2010, and the women's tournament returned to Kansas City in 2020, though it wasn't played due to the COVID-19 pandemic.
The women's tournament will be at Memorial Coliseum one last time in 2023. Starting in 2024, the women's tournament will be played at T-Mobile Center, likely directly before the men's tournament.
What Yormark said he is interested in is growing the footprint of the conference. That doesn't just include expansion, either.
"I would like to create some tent-pole events, maybe outside of our championships, that gives us an opportunity to showcase who we are and where we're going in major markets across the country in an effort to nationalize the conference," Yormark said.
You can find Matthew Postins on Twitter @PostinsPostcard