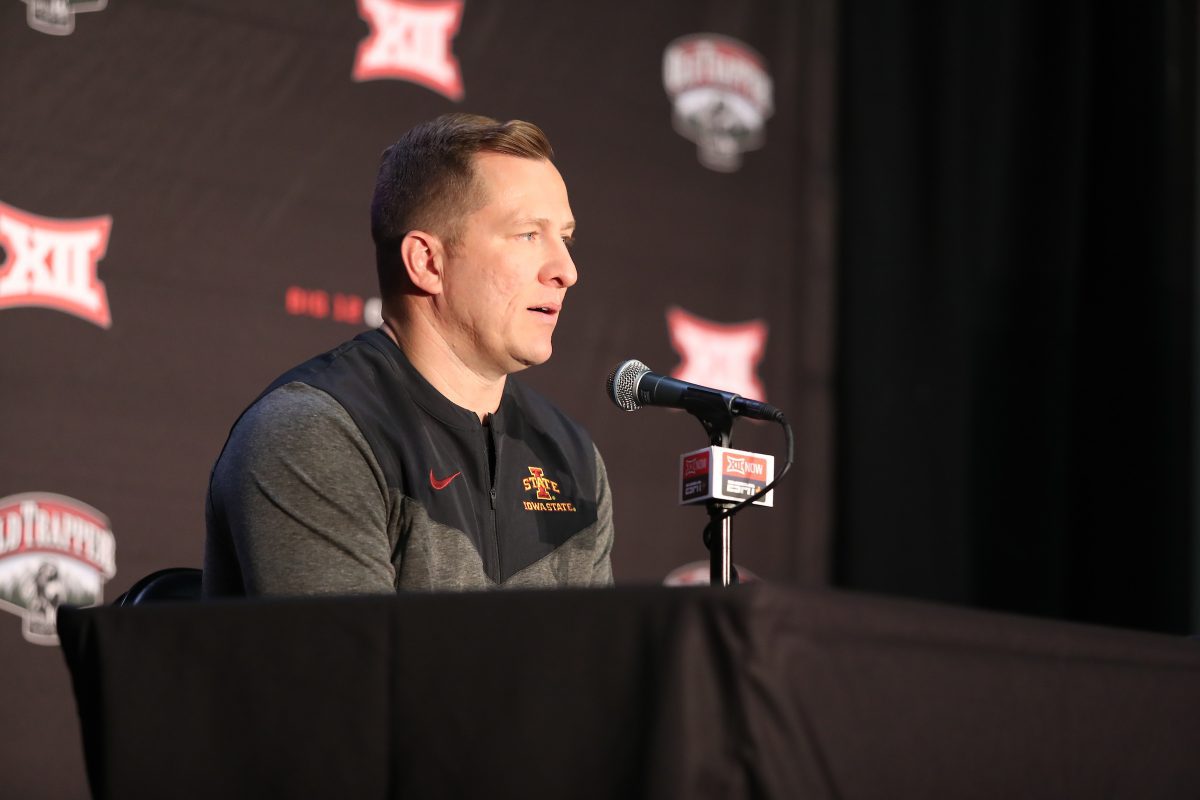 KANSAS CITY, Mo. — Big 12 Men's basketball media day was Wednesday at T-Mobile Arena in Kansas City, Mo.. Heartland College Sports was site for the event. Here are five takeaways from the day.
Iowa State in Year 2 Under Otzelberger
Iowa State coach T.J. Otzelberger put together an incredible turnaround last season. He took a two-win team a year ago and turned it into a Sweet 16 team in the NCAA Tournament. The Cyclones did it, in part, by leaning heavily on the transfer portal.
This year? Well, Otzelberger had to dip into the portal again. The Cyclones lost four players to transfer — most notably Tyrese Hunter to Texas — and four other players left to either pursue pro basketball or ran out of eligibility. So Otzelberger brought in six new transfers to replace them.
That's college basketball now. Even success doesn't quite protect your program.
"We want to continue to build a roster with veteran players who have winning habits, guys that have been in winning programs, or whether they've been in our program, we want to continue to grow and develop our program, and it's always going to be based on player development," Otzelberger said.
Great Expectations at TCU
No Big 12 team has more buzz that usually doesn't get it than TCU, which reached the NCAA Tournament and won its first-round game before falling to Arizona in overtime. The Horned Frogs return nearly their entire roster from last season and are ranked in the preseason AP Top 25.
Head coach Jamie Dixon — who led TCU to its last NCAA Tournament victory in 1987 as a point guard — came to TCU to raise the bar and, thereby, raise expectations. He gets that the Horned Frogs are getting more attention.
And he's fine with that.
"Raising the bar and not trying to lower expectations is certainly — I'm not going to start doing that now," Dixon said. "We're good. We believe we're good. But our league's really good. And so we need to do the things that good teams do. We need to do those every day in practice. We need to do those off the floor. We need to do that as a program."
Jerome Tang's First Media Day
Jerome Tang is the only new head coach in the Big 12 this season. Kansas State lured Tang to take over the program after his long stint at Baylor coach Scott Drew's top assistant. Tang takes over a program that finished under-.500 last year and saw head coach Bruce Weber resign at the end of the season. Weber is now working for the Big Ten Network.
Tang has just two holdovers from last season — guard Markquis Nowell and forward Ishmael Massoud — and he's glad to have them.
"Both have been invaluable to the program because they understand the family environment at Kansas State," Tang said. "They've done a great job of helping us recruit the team that we have and deal with the issues we've been challenged with. In fact, Ish's (Ishmael's) mom on video the other day challenged him to go rebound more."
As for winning this season, that's the goal. And he doesn't have to look that far down the road to see a program that turns around in one season with a new coach.
"T.J. [Otzelberger] put a lot of pressure on every coach that takes over a program," Tang said.
Defending the Natty
Kansas coach Bill Self will embark on his second time around defending a national champion when the Jayhawks hit the floor next month.
Like that 2008 National Championship team, the Jayhawks lost a lot of experience from last year's team. Two starters remain — forward Jalen Wilson and guard DaJuan Harris Jr. Kevin McCullar Jr., who transferred in from Texas Tech, is a third likely starter. The rest of the team is made of up of players that didn't play much last season or are true freshmen.
That remaining experience is going to have to lead the Jayhawks early on.
"I think our youngsters need to be good," Self said. "But our vets need to be really good to make sure our youngsters are good. And I think they have the right makeup and the unselfishness in order to do that."
'Defending the Culture
Texas coach Chris Beard did good work at Texas last year, helping the Longhorns reach the NCAA Tournament and win a first-round game in nearly a decade.
But Year 2, he said, is about something else.
"Year 1 is about building culture," Beard said "Year 2 is about defending culture."
He said this year's team is a "7 and 7" group — seven players with a lot of experience at the college level, and seven others that are building up their college resumes, including a pair of freshmen.
"So those seven veterans, combined with our young guys, I think that's where this source of optimism is right now that our program can be more in Year 2," Beard said.
You can find Matthew Postins on Twitter @PostinsPostcard