Big 12 Basketball
Mike Boynton on 2021-22 Postseason Ban: 'It Sucks to Be a Footnote in History'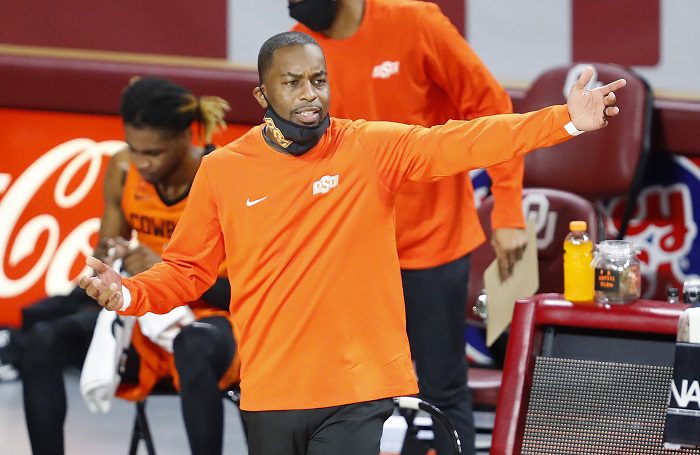 In a few weeks, on November 3, we will reach the one-year anniversary of the 2021-22 Oklahoma State Men's basketball team being officially banned from the 2022 NCAA Tournament.
This decision stemmed back to former assistant coach Lamont Evans' involvement in a bribery scandal, where he would link top players to managers and financial advisers in exchange for bribes. In June of 2020, the Cowboys were hit with sanctions.
Evidence obtained by the federal government caught Evans willingly participating in recruiting players to schools he was employed by: Oklahoma State and, before that, South Carolina. Evans accepted at least $18,150 in bribes — all of it unknowingly provided by the federal government during its sting operation. Evans was working with Christian Dawkins, a former runner for a sports agency, who was trying to build out his own business for future basketball clients. Evans was convicted in May 2019.
The Cowboys were hit with a one-year postseason ban and had to forfeit three scholarships per year until the 2022-23 season, plus pay a $10,000 fine plus 1% of the basketball program's budget.
Now, the NCAA has adjusted its approach on retroactive punishments for programs, not wanting to place the blame and/or punishment on players and coaches that weren't involved in the actions that required sanctions.
CBS Sports' Matt Norlander noted this in a tweet following the IARP's review of Memphis basketball's case.
The Tigers didn't receive a postseason ban, and it looks like that might not be something that we see going forward, meaning that Oklahoma State might be the last team to receive a punishment that didn't necessarily fit the crime. As Mike Boynton points out, that is unfortunate, and quite frankly, it's not fair to Oklahoma State.
"I hope that it's a sign that we're kind of getting away from the old kind of outdated thought process of just pick on whoever you can at the moment," Boyton said of the NCAA starting to move away from handing out postseason bans for the actions of previous regimes.
"[2021-22] was a really, really difficult season for our team to go through last year with [the sanctions] already on the forefront before we ever played the game. No question about it.
"I don't want to see a bunch of other kids have to go through that either. And so while I'm disappointed that it looks like our program will be the last one to have to do that, I'm also happy for the future kids that won't have to suffer that same fate because of things they really had nothing to do with. So, it sucks to kind of now be a footnote in history. It will be probably a trivia question: 'Who's the last team to suffer a postseason ban over a recruiting violation? The 2021-22 Oklahoma State men's basketball team.' But at the same time, maybe our case made some people kind of step back and think, 'you know, this is kind of ridiculous.' This is a little egregious, and it's clearly unfair to the kids who are now in the program. So, you know, some of the cases that have come forward now that haven't had a penalty I don't necessarily want to see them punished. I'm just disappointed that we unfortunately will probably be the last ones."