Big 12 News
Brett Yormark Still Interested in 'Additive' Big 12 Expansion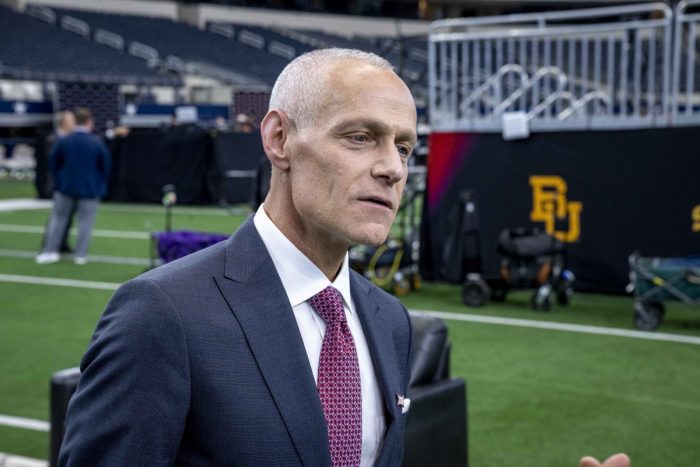 KANSAS CITY, Mo. — Big 12 commissioner Brett Yormark is still interested in potential expansion of the conference, but he wants any new members to be "additive" to the league.
Yormark made the comments during an interview at Big 12 Women's Basketball Media Day.
Expansion can be a part of his larger goal of expanding the conference's brand, Yormark said. But he made it clear he's not interested in just taking in any member that wants in.
"I think there's enormous opportunity for this conference, expansion, potentially, we'll see where that takes us," Yormark said. "If it's additive, as I've said before, we will pursue it. If not, you know, I'm thrilled with where we are today in the composition of the conference, especially with the four incoming institutions in July. So there's lot of opportunity to take advantage of."
The Big 12 Conference, of course, is undergoing an overhaul, thanks to the move that Oklahoma and Texas made to the SEC after football media days last year.
The Big 12 will take on four new universities in 2023 with Cincinnati, Houston, BYU, and UCF all prepared to make the Power Five jump. Then, in 2025 at the latest, Oklahoma and Texas, original members of the Big 12, will move to the SEC.
Yormark told the Lubbock Avalanche-Journal in an expansive interview in September that he was interested in expansion, though he didn't put a number on how many schools he thinks the league could take in.
He's also said that he'd like the conference to expand into the Pacific Time Zone, which would put it in direct competition with the Pac 12 Conference. Several reports have linked the Big 12 to the 'four corners' schools — Arizona, Arizona State, Colorado and Utah — but those reports have cooled.
Yormark addressed the potential of moving into that fourth-time zone on Tuesday.
"If we can offer continued scheduling flexibility with our media partners, we'd like to pursue it," Yormark said. "But there's a lot that goes into that decision. We're vetting all of that out for any and all possibilities right now."
You can find Matthew Postins on Twitter @PostinsPostcard