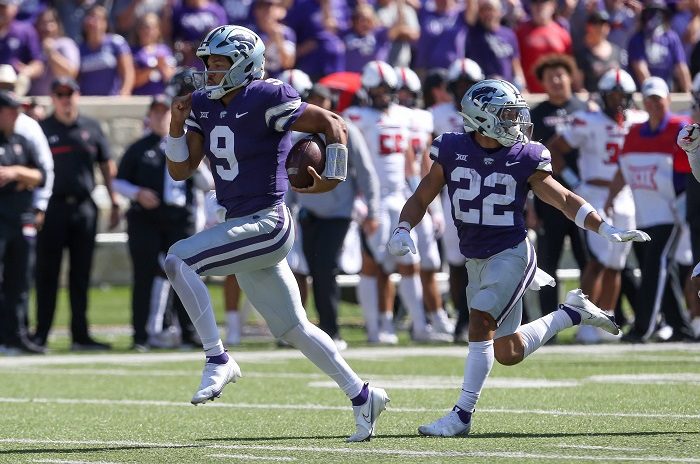 Sole possession of first place in the Big 12 conference is on the line Saturday as Kansas State travels to Fort Worth, Texas, to play TCU. The Horned Frogs are coming off a victory in double overtime against Oklahoma State, who looked like the prohibitive favorite to win the conference this season, while K-State is coming off of a bye week after beating Iowa State 10-9 in a defensive struggle. I have been waffling back and forth about which team will win this game, but after a deeper dive into some of the numbers, I am giving K-State the slight edge.
The key to this game will be the K-State defense's ability to slow down TCU's high-powered offense. TCU ranks third in the country in total offense, is 14th in rushing offense, and 23rd in passing offense. They have scored 38 points in every game they have played this season. TCU quarterback Max Duggan has played great and currently has the 6th best passer rating in the country. It begs the question, can K-State slow them down? I believe they can.
While K-State's defense hasn't necessarily been a lockdown defense, they have only given up 16.7 points per game on average. "Bend but don't break" is a cliché, but it fits in the case of the 2022 Wildcat defense. They don't give up many touchdowns. Overall, the defense ranks 45th in the country, giving up 354 yards per game on average. TCU's offense, on the other hand, is gaining 526 yards per game on average. The 172-yard discrepancy means that something will have to give in this game. The most points K-State has given up this season is 34 points against Oklahoma, while TCU has averaged 45.8 points per game, which leads the league.
The Wildcat defense will likely be the best defense that TCU will play against this season until they play Iowa State on November 26th. The bye week for K-State came at a good time. They are healthy and ready to go. Khalid Duke is practicing and expected to play Saturday, and Felix Anudike-Uzomah and Eli Huggins have been playing great on the defensive line. The secondary, led by safeties Josh Hayes and Kobe Savage, has been stellar. While they have a stiff test this week against TCU, K-State has the tools on defense to slow down the Horned Frog offense enough to win the game.
Another stat that stuck out to me is that TCU's pass defense is ranked 103rd in the country, giving up 264 yards per game on average. Their run defense is ranked 55th, giving up 135 yards per game. K-State should be able to both run and pass the ball against TCU and score enough points to win the game. As long as they don't turn the ball over and make their field goals and extra points, I think the Wildcats will do enough offensively to get a close victory against the Horned Frogs.
I am thinking K-State 30, TCU 27.
TCU vs. K-State by the numbers:
Total Defense
K-State: 45th (354 ypg)
TCU: 90th (400 ypg)
Rush Defense
K-State: 52nd (132 ypg)
TCU: 55th (135 ypg)
Pass Defense
K-State: 55th (221 ypg)
TCU: 103rd (264 ypg)
Total Offense
K-State: 65th (403 ypg)
TCU: 3rd (526 ypg)
Rush Offense
K-State: 7th (244 ypg)
TCU: 14th (229 ypg)
Pass Offense
K-State: 119th (158 ypg)
TCU: 23rd (297 ypg)