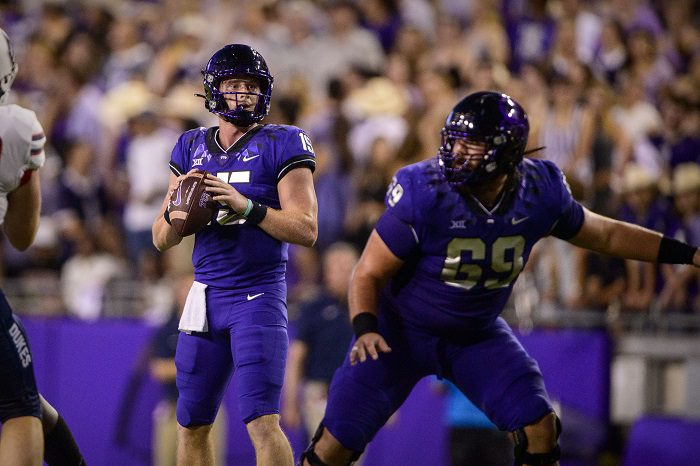 Another Saturday is here which means another weekend closer to the Big 12 Championship game. While some teams are in the outside looking in, four teams have appeared to rise above the rest.
This Saturday will play a crucial role in who will take control of the Big 12 Conference as the top four teams are playing one another on the same day. Texas made the trip up to Stillwater to take on Oklahoma State while Kansas State went down to Fort Worth to face an undefeated TCU team.
While the Texas/Oklahoma State game had plenty to play for, this Kansas State/TCU game featured the only two teams unbeaten in conference play. The winner would go on to take control of the Big 12 while the loser gets pushed back. Here are my thoughts on TCU's 38-28 win over Kansas State.
1. Another Weekend Means Another TCU Comeback
After digging themselves out of a 17-point hole last weekend against Oklahoma State, TCU once again found themselves down against Kansas State. However, this time it was an 18-point deficit, and the Frogs were able to complete the comeback once again. Kansas State took a 28-10 lead in the second quarter and then TCU woke up. The Horned Frogs scored 28 unanswered points as the offense got going and the defense buckled down. I don't know how this team continues to climb out of these holes, but they sure know how to win games as they sit at 7-0 after the big win.
2. Kansas State had a Quarterback Shuffle
It's not often where a team has to use three quarterbacks in the same game but that is exactly what Kansas State did against TCU. Starting quarterback Adrian Martinez went out after the first series due to a leg injury. Will Howard stepped in shortly after and did a fantastic job leading the offense to four straight scoring drives. Unfortunately, Will would also get hurt in the third quarter as it would be Jake Rubley's turn to take control of the offense. However, Rubley threw an interception on his first pass attempt of the game and would never get the chance to throw another pass. It certainly was an odd night for the Kansas State quarterbacks and hopefully Adrian Martinez comes back fully healthy.
3. Max Duggan is Superman
I keep saying it every single week, but it is true. All Max does is lead his team to victories and play tough football. He has cut down on his turnovers this season and threw for three touchdown passes against Kansas State. It's not always going to be pretty, but the man finds a way to get the job done and that is all you can ask for as a TCU fan. I also must give credit to Quentin Johnston and Kendre Miller who had big time performances as well.
4. TCU Takes Control of the Big 12
Never in a million years would I have guessed that TCU would be 7-0 and on top of the Big 12 standings. In fact, I wasn't even sure if they would make a bowl game this season. It turns out that I was flat out wrong about TCU because Sonny Dykes has this team on a roll. They made it out of the non-conference with three wins and they have now won four straight Big 12 games against Oklahoma, Oklahoma State, Kansas State, and Kansas. Outside of TCU, Kansas State was the best team in the Big 12 and TCU just knocked them off with a big win. Now they are in full control of the Big 12 as they are the only undefeated team left in conference play.