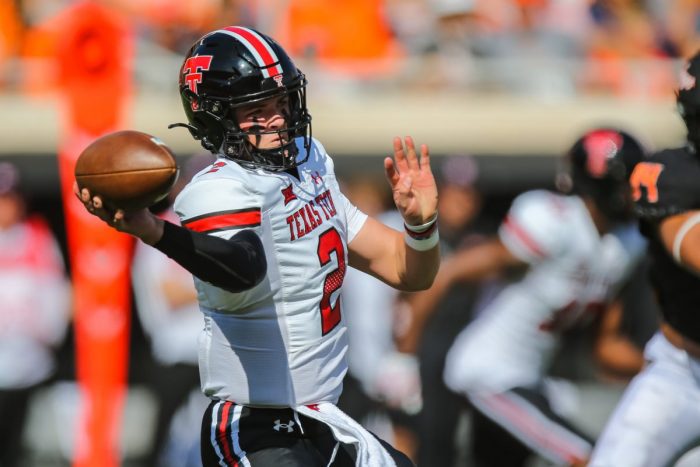 Here is everything you need to know about the upcoming matchup between the West Virginia Mountaineers and the Texas Tech Red Raiders.
GAME INFO
Saturday, October 22, 2022; 3:00 p.m. CT; Jones AT&T Stadium; Lubbock, Texas
TV: FS1 (Noah Eagle, Mark Helfrich)
Radio: Mountaineer Sports Network (Tony Caridi, Dwight Wallace, Jed Drenning); Texas Tech Sports Network (Brian Jensen, John Harris, Chris Level)
Records: West Virginia (3-3, 1-2 Big 12); Texas Tech (3-3, 1-2 Big 12)
Rankings: Both teams unranked
Last Week: West Virginia 43, Baylor 40; Texas Tech Idle in Week 7
Series History: West Virginia leads 6-5
Last Meeting: Texas Tech 23, West Virginia 20 (2021)
Favorite: Texas Tech (-7)
Fun Fact: Texas Tech has won each of the last three meetings in this series, winning 23-20 (2021), 34-27 (2020), and 38-17 (2019).
KEY PLAYERS
West Virginia Mountaineers
RB Tony Mathis Jr.
As the unquestioned feature back last week against Baylor, West Virginia sophomore running back Tony Mathis Jr. had the best game of his young career. With freshman CJ Donaldson sidelined with a concussion, Mathis put the Mountaineers on his back, taking 22 carries for 163 yards and two touchdowns in a 43-40 win over the Bears, establishing himself as another offensive weapon for West Virginia alongside WR Bryce Ford-Wheaton.
DT Dante Stills
Senior defensive lineman Dante Stills has been an impactful player for the West Virginia Mountaineers since he first stepped onto the field in 2018. Last week against Baylor, Stills totaled four tackles, but his biggest impact came on an extra point attempt by the Bears. Stills came free and got his hands up to block the try, which was subsequently returned for two points by Jacolby Spells, making the score 37-33 rather than 38-31, a three-point swing that ended up being the difference in the game.
Texas Tech Red Raiders
QB Behren Morton
Oh boy. The college football world got its first glimpse of freshman quarterback Behren Morton in action two weeks ago against Oklahoma State, and he didn't disappoint. Morton completed 39 of 62 passes for 379 yards, two touchdowns, and one interception, adding 46 yards and another score on the ground in his first career start. For a freshman, Morton looked poised, collected, and very much like a natural playmaker with the football in his hands.
DE Tyree Wilson
If it weren't for Felix Anudike-Uzomah and Will McDonald, Tyree Wilson would be the name to know in the Big 12 when it comes to pass rushers with NFL upside. Wilson is every bit of 6-6, 275 pounds and can flat get after it in passing situations. Wilson is tied with Lonnie Phelps and Anudike-Uzomah as the Big 12's sack leader in 2022 with 6.0, and he will likely play a role against J.T. Daniels and the Mountaineers.
KEY STORYLINES
West Virginia Mountaineers
Can West Virginia ride the wave of momentum it made last week at home against Baylor? Getting their first win in conference play was a big deal, but the Mountaineers need to stack wins now if they hope to salvage their season. Playing in Lubbock will present a totally different challenge this week, but Neal Brown and staff will have had 10 days to get their guys prepared. We will see if the mini-bye week can help them get the ball rolling.
Texas Tech Red Raiders
Is Behren Morton the answer for Texas Tech? Quarterback play has been one of two limiting factors for Texas Tech in recent years, the other being a porous defense. The Red Raiders seem to have the defense playing a bit better and if Morton can prove to be the real deal, Texas Tech could start to climb the Big 12 ladder. If that is to be the case, a big win over West Virginia is key on Saturday.
PREDICTION: Texas Tech 38, West Virginia 27
I think that Saturday will be the day that Behren Morton is established as one of the best young quarterbacks in this league as he proves that his performance against Oklahoma State was not a fluke. An improved defense combined with an efficient, high-volume day from Morton elevates Texas Tech past the Moutaineers and gets the Red Raiders to 3-3 and 2-2 in Big 12 play.