Baylor Bears
Big 12 Football Week 8: The Good, the Bad and the Ugly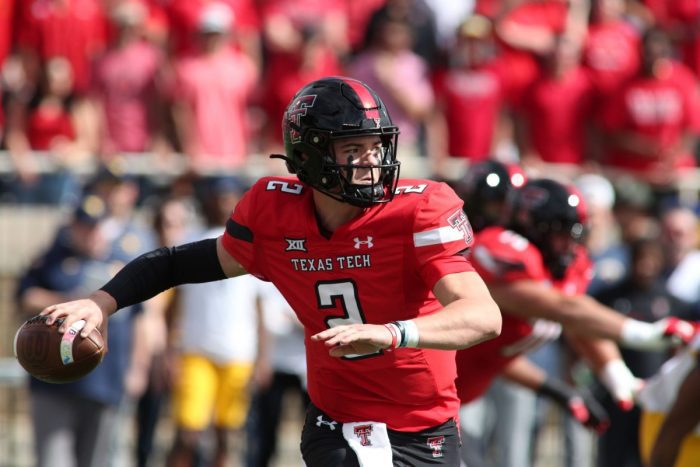 Another week has come in gone in the Big 12 Conference. After another great Saturday of games, there is always plenty to discuss and the race for the conference title is in full swing as we push through the season. Here is the good, the bad, and ugly from Week 8 in the Big 12.
The Good
Baylor (Beat Kansas 35-23)
This game nearly turned into a disaster for Baylor. After having a 28-3 lead at halftime, the Bears got outscored 20-7 in the second half as they held on to win. Unlike the West Virginia game, this one wasn't on the defense. Blake Shapen made his return at quarterback and had three turnovers against Kansas. Those three turnovers kept Kansas hanging around in the second half. Outside of the turnovers, running back Richard Reese had an outstanding performance as he led the offense with 186 rushing yards and two scores. I know offensive coordinator Jeff Grimes likes to be balanced but the Bears should have just kept running the ball because Kansas had no answer for the Baylor rushing attack.
Texas Tech (Beat West Virginia 48-10)
How about these Texas Tech Red Raiders? They put an absolute beatdown on West Virginia and there are plenty of positives from this game to discuss. First off, Tech has definitely found their starting quarterback with Behren Morton as he threw for 325 yards and two scores. This offense also managed to rush for over 230 yards and Xavier White had a huge performance with 8 catches for 139 yards and a touchdown. Defensively, they got four turnovers and held West Virginia to just 10 points. What more could you have asked from this team on Saturday? Absolutely nothing because this was by far the best game this team has played so far this season. I don't think there is any Big 12 team wanting to play Texas Tech right now.
Oklahoma State (Beat Texas 41-34)
Despite having a ton of key guys out due to injury, this team found a way to get the job done against a good Texas team. When the defense didn't have their best day, Spencer Sanders and this offense carried the team. Surprisingly, it wasn't the run game either because it was the connection between Sanders and these Oklahoma State receivers. Sanders found Stephon Johnson Jr. eight times, but it was Bryson Green who stole the show with 133 yards and a score. That final catch of Green's was huge as he scored a 41-yard touchdown with three minutes left to take the lead. After a disappointing first half, Oklahoma State took over the second half as they outscored Texas 17-3. That was the difference in the game.
TCU (Beat Kansas State 38-28)
Another week means another TCU comeback. After making a comeback against Oklahoma State, the Frogs did it again on Saturday against Kansas State. After being down 28-10, TCU found a way to score 28 unanswered points. The defense woke up and shut down Kansas State's offense in the second half and Max Duggan had another great game with 280 yards and three touchdowns. He had some help from Kendre Miller who rushed for 153 yards and two touchdowns as well. I know Kansas State had some quarterback issues, but it was still impressive for TCU to get the win to move to 7-0 on the season and to take control of the Big 12 title race.
The Bad
Kansas (Lost 35-23 to Baylor)
For a while there Kansas was going to go in my ugly column, but they managed to make things interesting in the second half thanks to some turnovers. The offense had two 90-plus-yard drives that ended in scores and the defense held Baylor to just seven points in the second half. Outside of that, there wasn't a whole lot for Kansas that went right. Jason Bean is a serviceable backup but I truly wish that Jalon Daniels were healthy so we can see him led this team once again.
Texas (Lost 41-34 to Oklahoma State)
Texas played a great first half, but unfortunately for them there is a second half as well. The Longhorns scored 31 points in the first half and managed to score just three in the second half. Quinn Ewers struggled as he went 19/49 and threw three interceptions. He overthrew his receivers all game long but the rushing duo of Bijan Robinson and Roschon Johnson helped the Longhorns offense. Also, Texas had a whopping 14 penalties in this game as well. Between that, the lack of offense in the second half and the defense wearing down, Texas couldn't pull it off in Stillwater.
Kansas State (Lost 38-28 to TCU)
This was such an odd game for Kansas State for so many reasons. The defense broke down in the second half and the offense went cold. The reason the offense struggled so much was due to the quarterback shuffle Kansas State had. Adrian Martinez went out after the first series of the game due to a leg injury and then Will Howard stepped in. To his credit, Howard led the Wildcats offense to four straight touchdown drives before getting hurt in the third quarter. From there, Jake Rubley had his turn, but he threw an interception on his first pass and never attempted another pass for the rest of the game. It was disappointing to see Kansas State have to do this in such a big game and I hope Adrian Martinez can come back fully healthy sooner rather than later.
The Ugly
West Virginia (Lost 48-10 to Texas Tech)
I am at a loss for words here. After the win against Baylor last week, I thought this team had turned the corner and instead they pull a no-show in Lubbock on Saturday. JT Daniels had his worst game of the season throwing three interceptions and CJ Donaldson's fumble made it four turnovers on the day. Along with the four turnovers, the defense had no answer for the Texas Tech offense as they gave up nearly 600 yards. At no point and time was West Virginia in this game and there is nothing Neal Brown can say that made this performance acceptable. With the loss, he is 20-22 overall and 12-18 in Big 12 play. If this team doesn't make a bowl game this year, then it is time to cut ties no matter the cost.