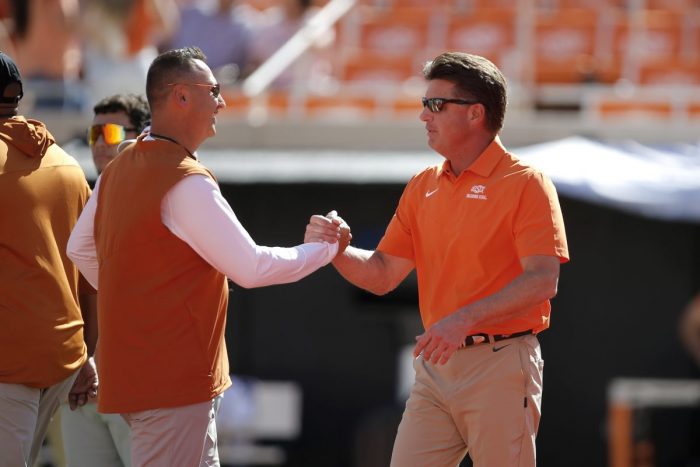 The 2022 college football season wrapped up Week 8 and the Big 12 season has crossed the halfway mark. There were four games this week, with Baylor holding off Kansas 35-23 in Waco, Texas Tech crushing West Virginia 48-10 at home, Oklahoma State won a thriller vs. Texas 41-34 in Stillwater and TCU came back to beat K-State 38-28.
So now it's time for our Big 12 Power Rankings. Here's a reminder on how I've done this for years: It's about how your team looked and how it played, not always about if your team won or lost. And last week's rankings have little impact on this week's. That's what makes this fun. These are also not predictions for the way the season will end, just a Power Rankings based on the most recent performances.
1. TCU Horned Frogs (Last Week: 1)
The TCU Horned Frogs remain undefeated after beating K-State at home on Saturday night. And for a second straight week, TCU had to come back from a double-digit deficit to win the game at home against the Wildcats. Max Duggan continues to gain confidence every week and running back Kendre Miller (153 rushing yards, two scores) is the best player in the Big 12 no one is talking about.
2. Oklahoma State (Last Week: 4)
The Cowboys bounced back from their loss to TCU and came back from double digits down to beat Texas on Saturday. Mike Gundy is now 5-1 straight up as a home underdog since 2016. And for my money, he remains the most underrated college football coach in America. Spencer Sanders is the foxhole guy you want in your corner with the game on the line, bum shoulder or not. And the defense is continuing to make key stops when needed.
3. Kansas State Wildcats (Last Week: 2)
The Wildcats led TCU 28-10 before the wheels fell off and lost 38-28 to the Horned Frogs. It didn't help that they had to rely and try to win this game with a third-string quarterback in Jake Rubley, who was not ready for the moment. The defense got tired as the offense kept stalling out in the second half, with TCU's offense scoring touchdowns on three straight drives of 91, 77 and 74 yards. K-State can bounce back in a big way this week against Oklahoma State, but we'll need to learn more about their quarterback situation first.
4. Texas Tech Red Raiders (Last Week: 7)
The Red Raiders are moving up after an absolute shellacking against of West Virginia on Saturday in Lubbock. Behren Morton looks like a "franchise" quarterback for Texas Tech and Joey McGuire continues to have this team exceed many expectations. Tech's defense is also looking more formidable each and every week.
5. Texas Longhorns (Last Week: 3)
Despite the close loss to Oklahoma State, I'm giving Tech the edge for the No. 4 spot since they beat Texas a few weeks back. But the Longhorns had a double-digit lead in Stillwater and let the game slip away. Quinn Ewers had his worst game of the season in the toughest road environment of his life and the defense gave up nearly 400 passing yards to Spencer Sanders.
6. Baylor Bears (Last Week: 9)
Baylor bounced back after a loss at West Virginia and beat Kansas on Saturday. It was dicey in the second half after the Bears jumped out to a 28-3 lead at halftime and hung on for a 35-23 win. But running back Richard Reese had his biggest game yet with 186 rushing yards and two scores as QB Blake Shapen was also back in the saddle after leaving the WVU game with an injury. Safe to say, Baylor probably wins at WVU if Shapen doesn't get knocked out, but regardless, Baylor is back on track and stays in the Big 12 Championship Game hunt.
7. Oklahoma Sooners (Last Week: 8)
Oklahoma was on a bye week, but moves up one spot since Kansas lost a third straight game and the Sooners had beaten the Jayhawks the week prior, giving them the edge for the No. 7 spot.
8. Kansas Jayhawks (Last Week: 5)
The Jayhawks have now dropped three in a row after a 5-0 start. But their resiliency against Baylor was impressive, making it a one-score game late after trailing 28-3 at halftime. However, after an emotional first half of the season, KU needs this bye week to rest both physically and mentally and gear up for the back end of the regular season. With one more win, KU will be bowl eligible for the first time since 2008.
9. West Virginia Mountaineers (Last Week: 6)
Saturday was an absolute embarrassment for Neal Brown and the Mountaineers in a 48-10 loss to Texas Tech. The Red Raiders are good, but there is no way the talent game is 38 points between these two. That's an indictment on this coaching staff, which had its team completely no-show for a second straight road game (Texas). And if WVU wanted to go bowling, this was a game they needed to win.
10. Iowa State Cyclones (Last Week: 10)
The Cyclones didn't play in Week 8 as they had a bye week to figure out how to try and start winning some of these close games that they've come up short in. And they get to welcome in the Oklahoma Sooners this weekend to try and get in the win column for the first time in Big 12 play this season.