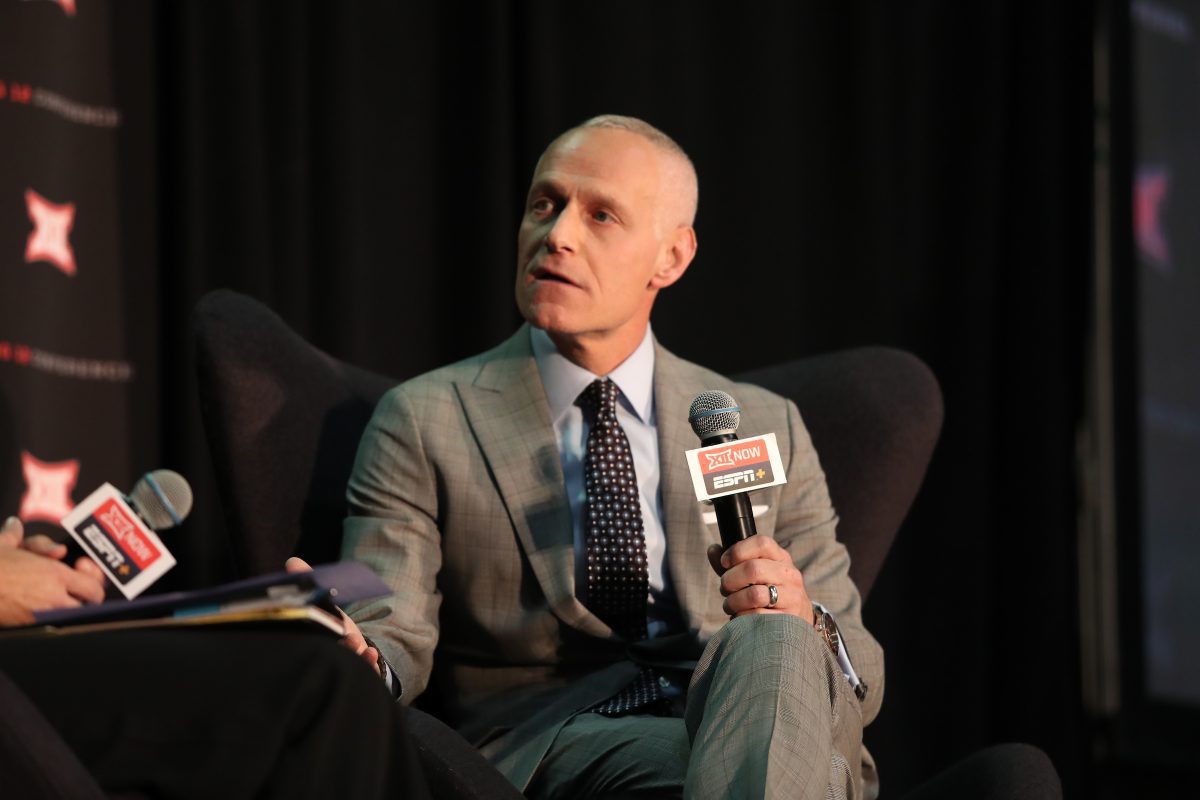 Big 12 commissioner Brett Yormark may be on the verge of striking a deal with ESPN and Fox on a new television deal in the next couple of weeks.
But, before Big 12 Radio's Ari Temkin broke the news during Big 12 Basketball Media Days in Kansas City, Yormark talked a little bit about what he envisions in a television partner.
The Big 12, ESPN, and Fox have a contract that goes through the 2024-25 athletic year. By that, the Big 12 will have taken in four new members — BYU, Cincinnati, Houston, and UCF — and lost two in Oklahoma and Texas, which will depart for the SEC.
The Big 12's exclusive negotiating window with the two networks doesn't actually start for 16 months. But, Yormark started informal conversations with both at the start of the month in an effort to see if he could strike an early deal.
It comes on the heels of the Pac-12 failing to reach a deal with ESPN and Fox after two exclusive negotiation sessions, along with the Big Ten's new deal with Fox, which siphoned off that conference's programming from ESPN.
Before speaking to Temkin, he told reporters that he said his "gut" told him that a deal would get done before the window was needed. He said the discussions with both ESPN and Fox were "meaningful" and that his initial goal was to determine if there was a desire to get an early deal done.
"I think on both sides, the answer to that question was, yes, everyone's motivated," Yormark said last week. "The question is, can we get to a deal?"
Andrew Marchand of the New York Post reported last week that the magic number for the Big 12 with ESPN and Fox could be $400 million per year.
Reporters didn't get a chance to ask Yormark about that figure because the report came out after his main session with the media on Tuesday. But, he was asked if he had a dollar figure in mind for a new deal. He said "the economics matter," but he's also looking for a "true partnership."
What does that mean to Yormark?
"We have a great partnership with both (ESPN and Fox), Yormark said. "But everyone needs to step up their game. More marketing, more promotion, more support of our student-athletes in all the right ways. Storytelling. Economics matter, though. But it's those fringe benefits that you know, make a deal or don't make a deal. But we're getting to a pretty good place."
Yormark took over as Big 12 commissioner officially on Aug. 1, replacing Bob Bowlsby. Yormark has spent the first two months visiting every Big 12 school, with the exception of Oklahoma and Texas, which he will visit in the coming weeks. He has also visited the four incoming schools.
He has also reorganized the Big 12 office to some degree, hiring the league's first chief marketing officer and a new brand communications leader.
You can find Matthew Postins on Twitter @PostinsPostcard