featured
HCS Big 12 Football Mailbag: Two-Loss Big 12 Title Hopefuls, Surprise Team for the Rest of the Way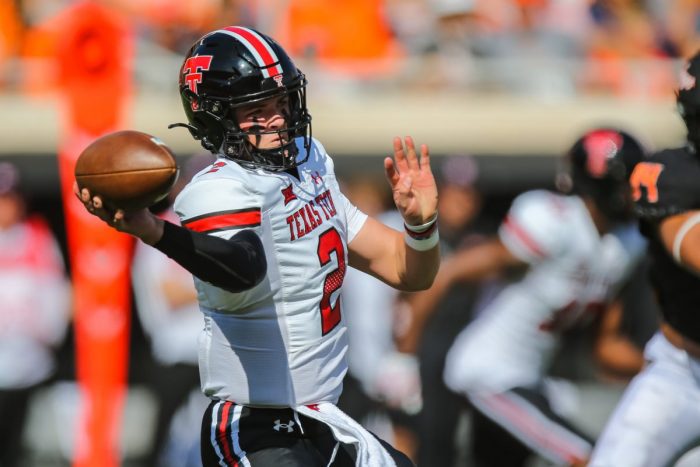 Welcome to the HCS Big 12 mailbag. This mailbag is for all you football junkies out there who root for a Big 12 school, who not only have questions about your team but other teams in the conference as well. So, join me, grab a cold brew or your favorite drink and relax as I answer all your Big 12 questions in my mailbag. I want to thank each one of you who submitted a question this week and for tonight's drink of choice? You'll just have to see for yourself. Cheers!
@JustinAllison16 asks: It's looking more likely that the Big 12 title game will have teams with losses. Who has the best chance at getting there with two conference losses and what percent chance do you give them?
Duke: Don't forget that TCU is still undefeated, but you are probably right that at least one of the teams that play for a Big 12 title will have at least two losses. There are a total of six teams with two or fewer losses in conference play. Those teams are TCU, Kansas State, Oklahoma State, Texas, Baylor, and Texas Tech. As of now, I would say that TCU and Oklahoma State have the best chances of getting to Arlington. Kansas State would be my next option behind Oklahoma State however this Saturday will likely be the deciding factor on who goes since the Cowboys will be taking on the Wildcats in Manhattan.
@amishclone asks: How many more quarterbacks does TCU knock out before we start to have second thoughts about them?
Duke: Nobody should have second thoughts about TCU because they are a good football team. Max Duggan is one of the best quarterbacks in the conference and he has two great weapons with running back Kendre Miller and wide receiver Quentin Johnston. For those who don't know what this question is about, this is it.
Sure, TCU has had some luck on their side but what undefeated team hasn't had a little luck? Maybe knocking the opposing team's quarterback is all part of the master plan.
@ted_rood asks: Is Iowa State underachieving or snake-bitten?
Duke: I would say a snake-bitten team is a team with a ton of injuries to key players. Iowa State hasn't had much of an injury problem at all this season. The problem is that they aren't winning close games. I have said many times in this mailbag that the defense for Iowa State is what has kept them in games. However, it is the offense that has been the issue. The run game has been non-existent at times which has put a ton of pressure on quarterback Hunter Dekkers who as we know is a first-year starter. The lack of offense cost them big time against Kansas and Kansas State. They showed some fight in their matchup against Texas, but it just wasn't enough to get the job done. I am not saying that Iowa State would be 7-0 right now but they could very easily be 5-2 instead of 3-4.
@gcalease asks: Who's going to be the surprise team the rest of season? Either dropping off after a good start or finishing strong after a rough start.
Duke: You want a surprise team? I'll take Texas Tech. They currently sit with a 4-3 record and are coming off a big 48-10 win over West Virginia. Ever since they made the switch at quarterback from Donovan Smith to Behren Morton, this offense looks completely different. Morton has a big-time arm and is able to place the ball well. Despite being a redshirt freshman, he certainly doesn't play like one. Plus, their defense has been playing better as they have the second-best pass defense in the Big 12 and the third-best third-down defense in the conference. Texas Tech is on a hot streak right now they aren't a team I would want to play.
@troyboy8ball asks: Once Texas moves to the SEC, which Big 12 team will be your new team to hate and constantly belittle and revel in their failures? I think it should be Baylor, but curious to hear which team you're leaning towards.
Duke: I had to burst your bubble here, but I am not leaning toward any team to hate. I do my best to keep it real with you and that is why you read or follow me whether it's on social media or on the site. If your team isn't good or playing well, I am not afraid to say they suck. If they are playing well, then I will be the first one to give your team praise. And if I am wrong about a team, I will be the first to admit it.
With that said, I see you are a Texas fan. I have no issue with that at all, but I do have an issue with the constant hype they receive each and every single season. They have done nothing, and I mean nothing on the field over the last decade-plus that makes me a believer in that program no matter who the coach is. Once they start winning games on the field, then I will eat my words and shut up. But until then, I will tell you how it is and how I feel about them which right now is an average football team.