featured
Overreaction Monday: Sark Needs to Go, K-State Wins with Adrian Martinez, Neal Brown is Done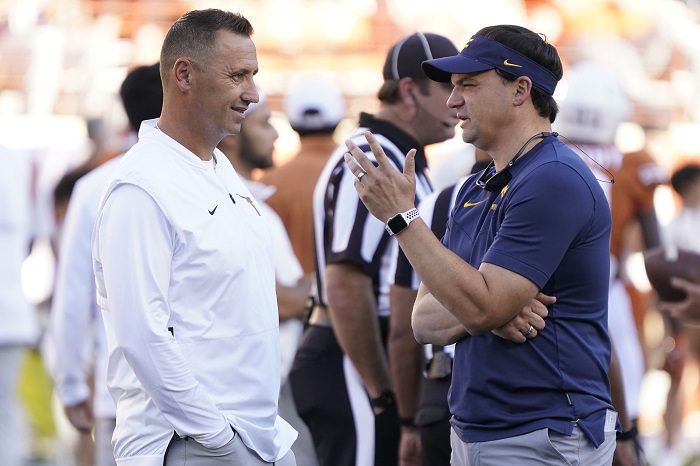 Every Monday during the college football season, fans of teams across the country return to work and discuss the events of the weekend with their coworkers. Around the water cooler or coffee machine, overreactions are born as suddenly one team is now a national title contender (they're not) and another's season is over after a tough loss (it isn't).
Let us sift through the rumors, false allegations, and straight-up nonsense for you this season with overreaction Monday, where we tell you whether you need to cool the jets or you legitimately have something to worry about.
After Another Blown Lead, It's Time for Steve Sarkisian to Go.
Overreaction. The Texas Longhorns lost yet another game in which it led by double digits, this time at the hands of Oklahoma State in Stillwater after leading 31-17 near the end of the second quarter. That is now five times in 20 games under Sarkisian that the Longhorns have blown a double-digit lead. After a blowout win over Oklahoma and a close victory over Iowa State, it felt like things were starting to turn for the Longhorns. Now, the fanbase in Austin is starting to call for their head coach's job. I think it is still too early to get rid of Sark. Quinn Ewers was terrible against Oklahoma State, going 19-49 and throwing three interceptions, and yet, UT had a chance to win the game. Texas led for the vast majority against OSU and it slipped away in the end. If things fall apart again and Texas manages to go 6-6, or a dreaded 5-7 again, then we can have this conversation, but for now, Sarkisian deserves to stick around.
Things Go Differently If Adrian Martinez Plays Against TCU.
Not an Overreaction. There is a legitimate argument that Kansas State walks away from Saturday's contest against TCU a winner if Adrian Martinez remains healthy, and I am willing to table this one. Obviously, when Will Howard entered the game after K-State's first drive, it shocked everyone. Howard was good in the first half too, helping the Wildcats build a 28-17 lead before the break. However, TCU made adjustments at halftime to the quarterback change and dominated in the second half, outscoring K-State 21-0 the rest of the way. It also helped that Howard went down in the third quarter, thrusting Jake Rubley into action. Martinez is a dynamic athlete and has been just short of a Heisman contender over the last few weeks. Therefore, I am willing to say that things might've gone differently had No. 9 been in the game. But, that isn't what happened, and TCU remains the lone team in the Big 12 with an unblemished record through eight weeks.
Neal Brown Will Not Coach the West Virginia Mountaineers in 2023.
Not an Overreaction. This weekend's 48-10 loss at the hands of Texas Tech in Lubbock might have put the proverbial nail in the coffin for Neal Brown's time as West Virginia's head coach. Saturday's 38-point defeat was the worst loss that West Virginia has suffered to an unranked opponent since 1965, when Penn State took down the Mountaineers 44-6. In four years, Brown has put together a 20-22 mark in Morgantown and has yet to win more than six games in a season, and that just isn't going to cut it at a place like West Virginia. I'm not sure that the school will be rid of him before January 1, 2023, but I am fairly confident that there will be somebody else at the helm when Spring practice starts up next season.