Baylor Bears
Big 12 Football Bowl Projections Entering Week 9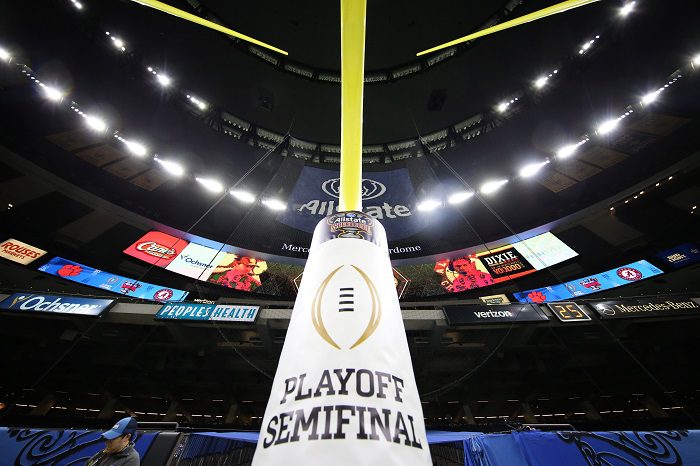 Even though we are just eight weeks into the college football season, that doesn't mean we can't look ahead to what the future may hold. There are still plenty of important games to get through and a whole lot of season left, but it is never too early to start thinking about the postseason.
Jerry Palm from CBS Sports recently released his latest college football bowl projections. It is always interesting to see how things change from week to week but here is what he currently has listed for the Big 12.
Sugar Bowl
Oklahoma State vs Alabama
Another week means Oklahoma State in a New Years' Six bowl game. Their opponent has changed over the weeks but a matchup with Alabama would be a huge opportunity for Oklahoma State and the Big 12. After the Fiesta Bowl win against Notre Dame, Mike Gundy said that they have a logo too. Well, this would be big for their logo if they can pull this off.
Alamo Bowl
TCU vs UCLA
TCU has been a fascinating team in my book. They just keep raking up those wins and they are shown very little respect. Despite their 7-0 record, they have yet to be mentioned in the big boy bowls.
Cheez-It Bowl
Texas vs Syracuse
This isn't a game that gets me excited, but Syracuse is one of those underrated teams in the ACC. They gave Clemson all they can handle and I am curious to see how they finish down the stretch much like Texas.
Texas Bowl
Kansas State vs Mississippi State
You could easily swap the conference logos because they play two totally different styles of football. Kansas State loves to run the ball and Mississippi State will throw it all over the yard. Plus, there should be plenty of great quotes from Mike Leach here.
Liberty Bowl
Baylor vs South Carolina
This feels like a big step back from where this team was a few weeks ago. After being mentioned as a top contender for a New Years' Six bowl bid, Baylor has now fallen all the way back to the Liberty Bowl.
Guaranteed Rate Bowl
Oklahoma vs Wisconsin
Speaking of falling, how about Oklahoma? Once a favorite to win the Big 12 they are still trying to get to a bowl game with a 4-3 record. It has been a while since they had to play in a bowl game like this.
First Responder Bowl
Kansas vs UNLV
At this point, Kansas fans should be excited to hopefully get to a bowl game. After jumping out to a 5-0 record to start the season, they now have lost three straight games. They just need one more win to become bowl eligible.
Cure Bowl
Iowa State vs Buffalo
Much like Kansas fans, Iowa State fans are hoping just to get to a bowl game. The Cyclones have gone to five straight bowl games since Matt Campbell took over in Ames. Iowa State has five games left and they need to win three more to get there.