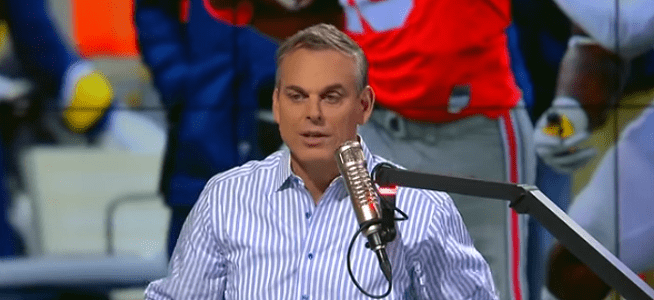 During a conversation around whether or not Nathaniel Hackett is the man for the job with the Denver Broncos, FOX Sports host Colin Cowherd decided to find other examples of coaches he felt like were not capable of doing the job.
And one of those coaches he listed off was Oklahoma's Brent Venables, who Cowherd called a "whiff", before adding, "move off it."
Cowherd's comments began around the 2:30 mark of the video below.
This is just the most recent example of Cowherd suggesting Oklahoma move on from Brent Venables. After Oklahoma got crushed by Texas, Cowherd said, "When Brent Venables got the Oklahoma job, my takeaway was, 'Well, Oklahoma almost always gets the coach right. And he's an Oklahoma guy. And he was good at Clemson. That's a solid choice.' Not only is it not a solid choice, I would move on at the end of the year and get Matt Rhule. It is a disaster. He is not a head coach. When you can't get your side of the ball right, 49-0 to Texas, its' a whiff. By the way, it's OK. Some people are born to be vice presidents. Some people are born to be CEO's. It can't look like this. Tackling, Coverages. It's a disaster. And with the transfer portal now, don't be patient. Kids will move on in a second. The Sooners will get cherry-picked. By the end of the season, they will lose 20 players, especially offensive players."
Things have calmed down a bit in Norman as Venables and the Sooners followed up the Texas game with a win over Kansas and then they had a bye week this past Saturday.
However, for those still hoping OU "moves off" Venables, his contract may be a sticking point, as its reportedly a six-year guaranteed deal.
The Sooners travel to take on Iowa State this weekend, with kick off set for 11:00 a.m.