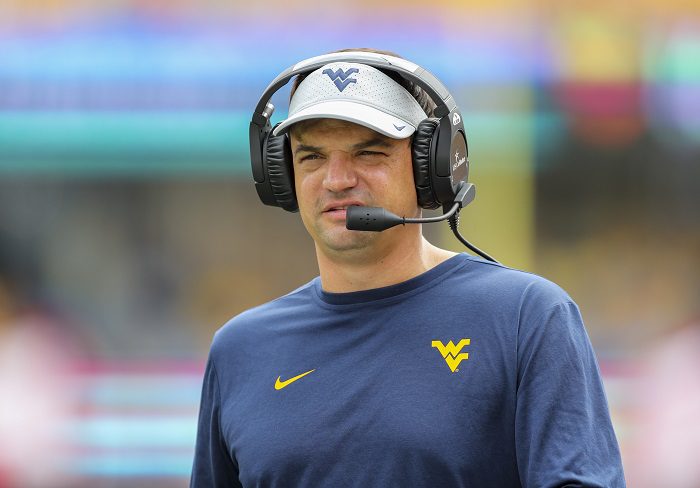 After an absolutely embarrassing loss to Texas Tech on Saturday, Neal Brown's days in Morgantown should be numbered.
I'll begin by saying I have rooted hard for Neal Brown at West Virginia, but there's no other conclusion to come to in Year 4 of "Trust the Climb". WVU fans have been patiently trusting the climb since it began in 2019, but there's nothing to show for it, and there's little to suggest that the tide is turning this season, 2023, or any time after that.
Following the loss on Saturday, which was the second straight road game in which WVU didn't get off the bus (they trailed Texas 28-0 in the blink of an eye earlier this month), Neal Brown said, "Probably as disappointed as I've ever been as a football coach in my entire career … This team's just been a rollercoaster. We played really well against a really good football team last week in Baylor and won the game. And then we played about as bad as we can possibly play the game of football today. It's unbelievably frustrating to say the least."
There is not a 38-point gap between West Virginia and Texas Tech. That's an indictment on this coaching staff.
West Virginia is now 3-4 overall and 1-3 in Big 12 play. And if not for an injury to Baylor QB Blake Shapen two weeks ago, is West Virginia 2-5 overall and 0-4 in Big 12 play? Maybe it's not fair to play that game, but I believe it's worth having that conversation as part of the bigger picture around WVU football.
And as you look back over Neal Brown's nearly four seasons on the job, what is his defining win? Is it a 24-20 win over No. 24 Kansas State in Manhattan back in 2019? Is it a 37-10 win at home against No. 16 Kansas State the following year? Last season against Virginia Tech or Iowa State (who were both in the Top 25 at the time)?
Neal Brown's Mountaineers are 4-10 against AP Top 25 teams during his tenure, with the four victories mentioned above. None would be considered program-defining wins by anyone's standards.
For the rest of this season, WVU needs to go 3-2 to become bowl eligible, and the schedule looks like this: vs. No. 7 TCU, at Iowa State, vs. Oklahoma, vs. No. 22 K-State and at No. 9 Oklahoma State.
How likely is 3-2 over this stretch? Unlikely, but I suppose not impossible. But in the topsy-turvy and deep Big 12, you can also make a fairly easy case for 1-4, or even 0-5.
Maybe that program-defining win comes this weekend against the undefeated Horned Frogs. Heck, TCU has played with fire the last two weeks, trailing Oklahoma State and K-State by double digits before coming back for victories. Is it a trap game for TCU, who follows this one with the three Texas Big 12 schools the next three games? Possible again.
However, barring something unforeseen, Neal Brown and the Mountaineers are looking at another sub-.500 season. He's 20-22 overall and 12-18 in Big 12 play. That would be three of four seasons with an under .500 record for Brown.
In college football, waiting for the turnaround is like waiting for the ex-girlfriend who dumped you to come crawling back. It can happen, but at some point, when you've seen enough, you realize it's highly unlikely and time to move on.
The inconsistencies, lack of big wins, inability to develop a quarterback, and reliance on empty platitudes lead me to believe the time for Neal Brown will be up sooner than later.