Trending Now
Paul Finebaum is Already Making His Case for Multiple SEC Teams in the CFB Playoff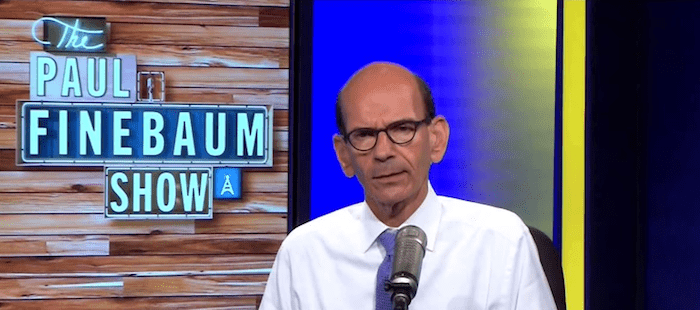 Buckle up folks, it's that time of year. SEC personality Paul Finebaum is making headlines for saying that there should be two teams from the Southeastern Conference represented in the College Football Playoff.
Are you shocked? If so, you must be new here. Make sure to take a look around the site.
If you've heard this before, you know that we've seen it before, and we will probably see it again before the playoff expands to twelve teams. Then, once that happened, four or five teams from ESPN's favorite conference will be among the field of 12. That's just the way it is.
In Finebaum's latest claim, the SEC title game will be the most important game of the year, in all of college football.
"If you went with the odds, Georgia and Tennessee meet next week, Georgia moves on from that game. Then Alabama has an LSU and Ole Miss back to back, on the road task, I think that's extremely difficult," Finebaum said on Get Up on ESPN. "Ole Miss did Alabama a favor the other day by losing in Baton Rouge, but Alabama will be a pretty big favorite in both games.
"So then we see a very likelihood of Alabama and Georgia meeting in the SEC Championship Game, Georgia will be favored and if Georgia wins that game, it opens the door for Tennessee to sneak in over Alabama with two losses."
As annoying as he might be to Big 12 fans, Finebaum is right about one thing. The SEC title game will 100% have major implications in determining the CFP field of four. In every year since the Playoff's inception, the SEC Champion has made it in, and twice the runner-up has appeared as well.
There's still a long way to go, but the trio of Georgia, Tennessee, and Alabama have looked like contenders, and it would not be surprising whatsoever to see two of them get the nod after Championship Saturday.