Oklahoma State Cowboys
Sonny Dykes on NIL: 'You Can Find Good Football Players that Just Love Playing Football'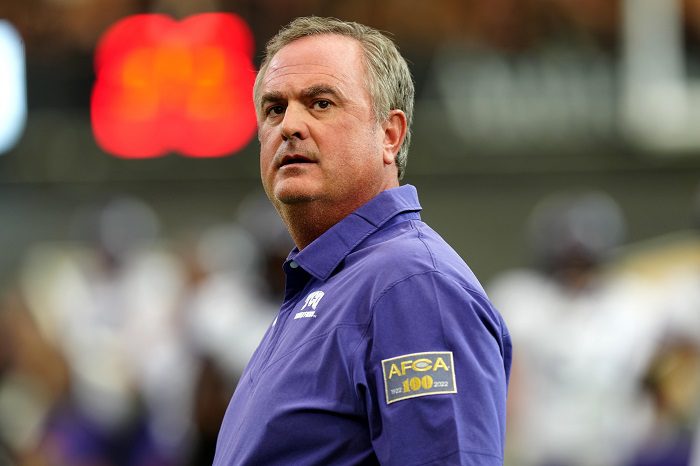 Name, Image, and Likeness, widely known as NIL, has been one of the major topics surrounding college football for the past 24 months or so, right alongside the transfer portal and expansion.
Ever since the toothpaste was let out of the tube, the fear of new super teams rising up in cashflow hotbeds like Miami, Austin, and College Station has been running wild.
Miami was set to return to the glory days of Larry Coker, and before that Jimmy Johnson. Texas was set to take its new (not new) recruiting prowess and run to a Big 12 title. Texas A&M, fresh off the best recruiting class in college football history (or that money could buy), looked like it would finally challenge Alabama and Georgia for SEC supremacy. Let's check in on them and see how things are going, shall we?
Miami Hurricanes: Record: (3-4, 1-3); 45-31 loss to MTSU, 45-21 loss to Duke
Texas A&M Aggies: Record: (3-4, 1-3); 17-14 loss to App State, 42-24 loss to Mississippi State
Texas Longhorns: Record: (5-3, 3-2); 37-34 loss to Texas Tech; 41-34 loss to Oklahoma State
It appears that while money can buy you five-star commitments, it apparently doesn't directly translate to wins. Nope. At the end of the day, sweat equity, hard work, dedication to a team goal, and having buy-in from all 85 guys on the roster is still what it takes to make the machine run smoothly. The teams that can combine that with superstar recruiting classes, i.e. Alabama, Ohio State, Clemson, Georgia, are the ones that continually compete for national title.
However, there are also schools like Oklahoma State and TCU that are just getting it done with the former, and without need for the latter.
"I'll go back to when I walk out of the building," Cowboys defensive coordinator Derek Mason told The Oklahoman after OSU's 41-34 win over Texas. "I don't see Ferraris and Lamborghinis. I see Ford F-150s. I see Chevys. I see blue-collar stuff. And ours are immersed in the idea of toughness — all day long."
Sonny Dykes and the TCU Horned Frogs are one of six remaining undefeated teams in college football, and sit a 7-0 and ranked seventh in the nation. Dykes knows that recruiting in college football is changing (or the legality of it is), but at the end of the day, there's still one thing that is more important than the rest.
"You can find good football players that really just love playing football," TCU coach Sonny Dykes told CBS Sports. "That's the most important thing. Sometimes, when it's just about money or it's just about things, sometimes that becomes more important than the other stuff."
"In a weird sort of way, the way college football is now, you're going to see places rewarded that put an emphasis on culture and recruiting people that love football," Dykes told CBS Sports, referencing Mason's parking lot observation. "Everybody likes a nice car, but that means a lot more to some people than it does other people."
Schools like Oklahoma State and TCU have always done more with less and beaten the big dogs along the way. Old-school fans can find solace in knowing that, in an NIL world, there is still very much a place for winning with a pay-to-play mentality.