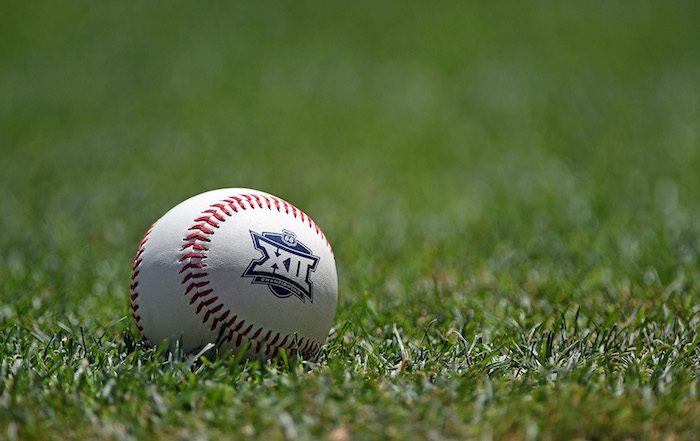 The Big 12 Conference has released its 2023 Big 12 baseball conference schedule, which is set to begin on March 17 and will run through May 20.
Games are scheduled on a Friday-Sunday three-game series format, although teams may move the April 7-9 series to April 6-8 by mutual agreement.
The 2023 Phillips 66 Big 12 Baseball Championship returns to Globe Life Field in Arlington, Texas, on Wednesday, May 24 and will come a conclusion on Sunday, May 28.
In 2022, TCU won its second consecutive Big 12 regular season title, posting a 16-8 record in Conference games. Oklahoma won the 2022 Phillips 66 Big 12 Baseball Championship, starting a 12-2 run in the postseason that produced a trip to Omaha and a National Runner-up finish.
According to a Big 12 press release, The Big 12 was the only league to finish the 2022 season with over half of its membership ranked in the D1Baseball Top 25. Five programs earned bids to the NCAA Championship, with all five advancing to their respective Regional championship game. The Big 12 had two teams reach the College World Series, marking the fourth time in eight events multiple Conference schools made it to Omaha.
Here is a look at the 2023 Big 12 Baseball Conference Schedule, courtesy of the Big 12.
2023 Big 12 Conference Baseball Schedule
Friday, March 17 – Sunday, March 19
K-State at Baylor
TCU at Oklahoma
Oklahoma State at Texas Tech   
 
Friday, March 24 – Sunday, March 26
Baylor at Oklahoma State
Kansas at TCU   
Oklahoma at K-State     
Texas Tech at Texas       
 
Friday, March 31 – Sunday, April 2
Baylor at Kansas
West Virginia at K-State
Texas at Oklahoma State
TCU at Texas Tech           
 
Friday, April 7 – Sunday, April 9**
Oklahoma at Baylor
Kansas at West Virginia
K-State at Texas
Oklahoma State at TCU                 
               
Friday, April 14 – Sunday, April 16
Texas at Baylor
K-State at Kansas
Texas Tech at Oklahoma
West Virginia at Oklahoma State 
Friday, April 21 – Sunday, April 23            
Baylor at Texas Tech      
Oklahoma State at Kansas           
Oklahoma at Texas         
TCU at West Virginia      
 
Friday, April 28 – Sunday, April 30
West Virginia at Baylor  
Kansas at Oklahoma       
Texas Tech at K-State    
Texas at TCU     
               
Friday, May 5 – Sunday, May 7  
Texas at Kansas
Oklahoma at West Virginia          
               
Friday, May 12 – Sunday, May 14
K-State at Oklahoma State
Baylor at TCU    
Texas Tech at West Virginia         
 
Thursday, May 18 – Saturday, May 20    
Kansas at Texas Tech
TCU at K-State  
Oklahoma State at Oklahoma    
West Virginia at Texas   
               
Wednesday, May 24 – Sunday, May 28
2023 Phillips 66 Big 12 Baseball Championship       
 
**–Can move to May 6-8 by mutual agreement