Trending Now
Amazon VP 'Very Interested' in College Football Rights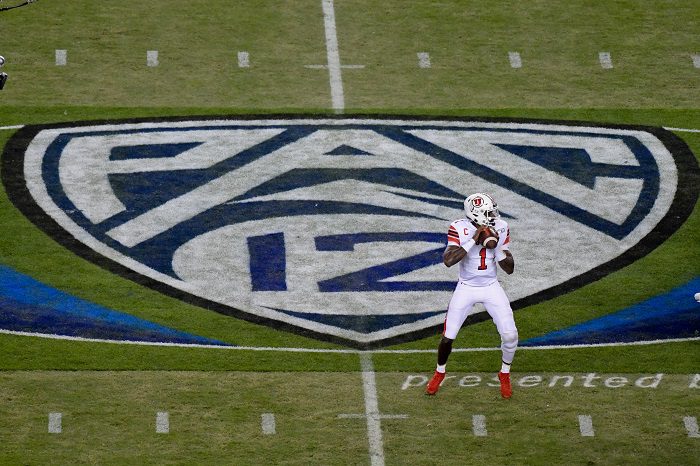 Earlier this month, it was announced that the Pac-12's exclusive negotiating window with ESPN and FOX Sports had come to a close without the conference striking a deal with the two television networks.
While the Pac-12 is much less valuable than it was with USC and UCLA, there is still a good chance that a bidding war for their services will break out, as live sports is among the most valuable television asset out there.
The Pac-12's current media rights deal is set to expire in 2024 so the time for selling themselves is now, and it appears that a streaming giant could be interested.
Amazon, the new home of Thursday Night Football, is looking to expand its offering of live sports and says that college football is certainly in its crosshairs.
"Actually, we're very interested in that," Amazon vice president for global sports video Marie Donoghue told The Marchand and Ourand Sports Media Podcast. "Obviously, we don't talk about specific negotiations, but we're going to keep knocking. The thing about sports is there's a lot of marquee properties out there. We're very interested in big-time college sports. Anybody would be."
If that is the case, could there be a chance that the Big 12 gets involved in some sort of agreement with Amazon? It's not likely. As Marchand pointed out in his recent podcast, the Big 12 looks to be on the verge of a deal with ESPN and FOX that's approaching $400 million in value, allowing them to avoid the risk of moving to a streaming-only option.
"If I'm ESPN, and to a lesser degree FOX, I'm being a little more aggressive," Marchand said. "If I'm them, I want to box out those others – I don't want Amazon to have a chance at this. Let them have the PAC-12 and let that go into oblivion. If I'm ESPN, is it going to cost me more in a year and a half than it does now? I would say it would cost you more. So, pay a little bit more than you probably want right now, it probably makes sense."
If the Big 12 locks up an agreement with a traditional television power, it likely leaves the Pac-12 out in the dark with Amazon likely being the highest bidder, if not the only one, left at the table.
Will that be the demise of the conference or will they thrive in the new opportunity and be the first deal that moves the industry towards streaming platforms rather than traditional television? There's no way of knowing for now, but we will likely have our answer at some point or another.
One thing is certain: Amazon is looking to get into live sports. They lost out on a bid for the rights to the Big Ten, as did ESPN. There is a bidding war on the horizon and money talks in this business. The Big 12 appears to be the next asset on the table, and its value is likely greater than that of its opponent out west. If and when Yormark and the Big 12 land their next deal, the dominoes just might start to fall, and the Pac-12 might just drop off into the Pacific for good.