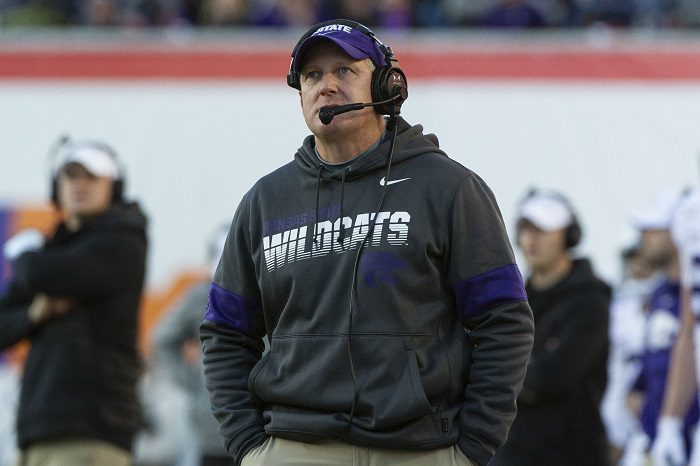 It's time for Chris Klieman to take Kansas State football to the next level. Why do I say that? The next three games on the schedule are pivotal if the team wants to have a shot at playing in the Big 12 championship game. Win all three, and we will likely see the Wildcats in Arlington on December 3rd. Lose one, two, or all three, and it is unlikely to happen. Who is coming up after K-State lost their first conference game of the season to TCU? Oklahoma State, Texas, and Baylor. Every one of these games will be difficult, especially since Chris Klieman has never beaten any of them in three years on the job, with a combined record of 0-9.
K-State finished 8-5 in 2019, 4-6 in 2020, and 8-5 in 2021. Their Big 12 records those years? 5-4 in 2019, 4-5 in 2020, and 4-5 in 2021. The Wildcats under Klieman have been very mediocre. A hot start to 2022 had the fan base dreaming of a trip to the championship game. The Wildcats started 5-1 and won their first three conference games before losing to TCU last Saturday. If they lose the next three very tough games, they will be sitting at 5-5 overall and 3-4 in the Big 12 with two games remaining. Another mediocre season is looming large unless Chris Klieman and company can figure out how to beat Oklahoma State, Texas, and Baylor.
Klieman's K-State teams have been streaky. In his first season, 2019, they won their first three games of the season, lost the next two, won three in a row, lost two in a row, then won two before losing the Liberty Bowl game to Navy. In 2020, they lost the first game against Arkansas State, then won four conference games in a row before losing the final five games of the season. In 2021, they won their first three games, lost the next three, won the next four, then lost the next two before beating LSU in the Texas Bowl. It is a strange phenomenon that I can't quite explain. Every time K-State has lost a conference game after winning a few games in a row, they have lost the next game. For example, they never get a win, then a loss, then a win during the conference portion of their schedule. When they lose a game there are always at least two losses in a row. It has always taken them at least two games to get off the schneid and win again.
A constant in all three of coach Klieman's seasons are losses to the three aforementioned teams. It just so happens this season that the Wildcats play all three in a row. It is Chris Klieman's chance to take the next step with this program if he can beat the Cowboys, Longhorns, and Bears in 2022. Can he start on the right foot and get it done this Saturday against Oklahoma State? It's a tall task.
Injuries have ravaged the K-State roster in the last couple of weeks. Key players, such as starting quarterback Adrian Martinez, running back Deuce Vaughn, linebacker Daniel Green, linebacker Khalid Duke, cornerback Julius Brents, safety Josh Hayes, and tight end Ben Sinnott, have all been fighting through injuries. As of this writing, we don't know who will start at quarterback for K-State on Saturday. Therefore, it's hard to predict what might happen in the game or to have much confidence to predict a victory.
Oklahoma State has had its share of injuries as well. Starting quarterback Spencer Sanders has been banged up, but he played well against Texas on Saturday. Sanders leads the number one offense in the Big 12 and also leads the conference in passing yards. Oklahoma State has three of the top eight receivers in the league, Braydon Johnson, Bryson Green, and Brennan Presley, and stopping them, or even slowing them down, will not be easy.
While Oklahoma State's offense is scary good, their defense has been terrible. They are 117th in the country in total defense and 127th in passing defense, giving up 303 yards per game. No matter which quarterback plays for K-State on Saturday, they should be able to pass the ball almost at will and score a lot of points. This statistic alone is why I think this game is winnable for K-State. Granted, K-State hasn't been great at passing the ball so far this season, but they have been successful passing when they needed to, and Will Howard came into the game against TCU on Saturday and was slinging the ball around the field, leading K-State on four straight touchdown drives in the first half. We've seen them successful in the passing game, so we know they can do it. They will have to be efficient through the air on Saturday against Oklahoma State to win.