featured
Fact or Fiction Friday: Texas Tech Will Win Out, TCU is Underrated, Mike Gundy Owns Texas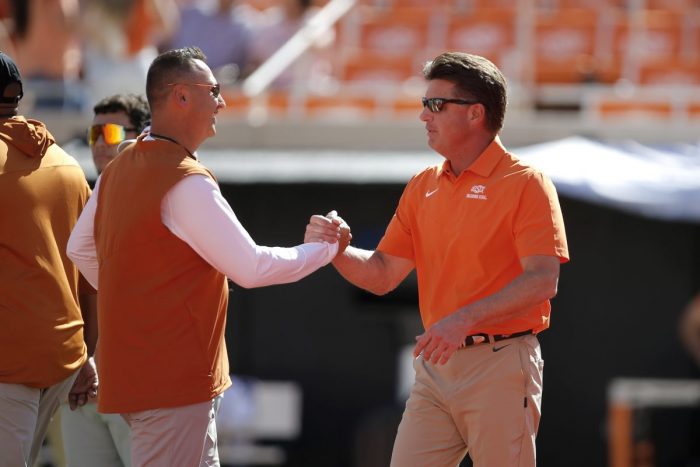 Welcome to Fact or Fiction Friday. Each Friday I give you the opportunity to ask the most intriguing questions in the Big 12 Conference and I will tell you whether they come true or if they are set to fail. Let's crack it open and see what we have in store this week.
The Big 12 have at least seven bowl-eligible teams.
Fact: Right now, the Big 12 has two bowl-eligible teams with Oklahoma State and TCU. Kansas State and Texas are sitting with five wins so they will be a lock to get to at least six as well which makes four teams. Plus, Kansas is still sitting at five wins so I will go ahead and put them in a bowl game as well because they will get another win somewhere on the schedule. That is five teams and between Oklahoma, Baylor, and Texas Tech, two of them will get to six as well. Honestly, don't be surprised if all three of them make it along with Iowa State. It's not crazy to think that there could be eight or nine Big 12 teams who end up going bowling this season.
Texas Tech Will Win Out.
Fiction: The more I watch this Texas Tech team the more I like them. I said in my mailbag earlier this week that they are a team who nobody in the Big 12 wants to play right now. Their defense is improving and the quarterback switch to Behren Morton has done wonders for them offensively. They have five games left against Baylor, TCU, Kansas, Iowa State, and Oklahoma. I don't see them going 5-0 down the stretch but they will likely go 3-2 if they keep playing the way they have been as of late.
Iowa State Will Get to a Bowl Game.
Fact: Don't ask me how but this team will find a way to get to six wins. They have lost a ton of close games this season and have come out on the wrong side of them. The defense will keep them in every game, but the offense needs to continue to get better. I still question the run game, but Hunter Dekkers looked much better in his last game against Texas. When Hunter can play loose and fast then he can make things happen. Plus, he has Xavier Hutchinson and Jaylin Noel on his side to throw to. Iowa State currently has a 3-4 record with five games left against Oklahoma, West Virginia, Oklahoma State, Texas Tech, and TCU. Three of their final five games are at home which are the ones I believe they will win to get to six.
TCU is Underrated.
Fiction: If TCU were outside of the top ten then I could make a case that they are underrated but they are the number seven team in the country in the AP Poll. The Frogs have a perfect 7-0 record and there is only one team who isn't undefeated team ahead of them, which of course, is Alabama. TCU is in a good spot right now at number seven and if they keep winning then they will keep moving up. Now I will say that it is going to be interesting to see how the CFB Playoff committee views them next Wednesday.
Mike Gundy is Texas' Daddy.
Fact: When Mike Gundy took over at Oklahoma State in 2005, it took him a few years to beat the Longhorns. He lost five straight to Texas from 2005-2009 before beating them for the first time in 2010. Since 2010, Oklahoma State is 9-4 against Texas. So yes, Mike Gundy is indeed the father of Texas because he owns them.