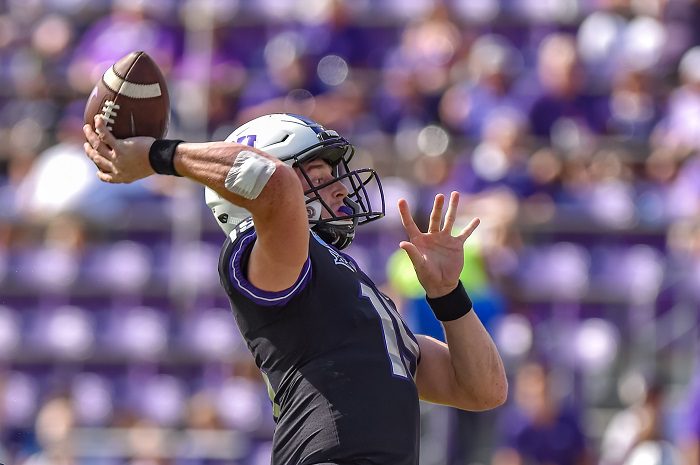 Here is everything you need to know about the upcoming matchup between the TCU Horned Frogs and the West Virginia Mountaineers.
GAME INFO
Saturday, October 29, 2022; 11:00 a.m. CT; Milan Puskar Stadium; Morgantown, West Virginia
TV: ESPN (Bob Wischusen, Roddy Jones, Kris Budden)
Radio: Horned Frog Sports Network (Brian Estridge, John Denton, Landry Burdine); Mountaineer Sports Network (Tony Caridi, Dwight Wallace, Jed Drenning)
Records: TCU (7-0, 4-0); West Virginia (3-4, 1-3)
Rankings: TCU ranked No. 7 (AP Top 25); West Virginia unranked
Last Week: TCU 38, Kansas State 28; Texas Tech 48, West Virginia 10
Series History: West Virginia leads 7-4
Last Meeting: West Virginia 29, TCU 17 (2021)
Favorite: TCU (-7.5)
Fun Fact: Prior to 2012, the only previous game between TCU and West Virginia was a 31-14 Mountaineers' win in the 1984 Bluebonnet Bowl at the Astrodome in Houston.
KEY PLAYERS
TCU Horned Frogs
QB Max Duggan
TCU quarterback Max Duggan has been among the nation's best quarterbacks through the first half of the 2022 season and is a big reason why the Horned Frogs are 7-0. Through seven games, Duggan has completed 133 of 193 passes (68.9%) for 1,871 yards and 19 touchdowns with just one interception. He's also added 58 rushing attempts for 274 yards and four touchdowns. Duggan will be an issue for West Virginia's defense, as he has for everyone else to this point in the year.
LB Dee Winters
One of TCU's most experienced defenders, Dee Winters has been busy for the Horned Frogs this season. Winters is third on the team in tackles (35), leads the team in sacks (4.5), and also has one pass breakup and one fumble recovery apiece. With West Virginia on the board next, Winters is likely to be busy yet again on Saturday.
West Virginia Mountaineers
RB/TE CJ Donaldson
Over the last couple of weeks, West Virginia has enjoyed the emergence of Tony Mathis Jr., as he turned 22 carries into 163 yards and two touchdowns against Baylor. WVU fans were hoping that he'd be a factor in the Texas Tech game as well, but a quick start by the Red Raiders and an injury to Mathis kept that from happening. Mathis will be out in this game as well, leaving RB/TE CJ Donaldson to carry the load alone against TCU. On the year, Donaldson has 68 carries for 422 yards and six touchdowns.
DL Dante Stills
If West Virginia is going to have any chance of pulling off the upset over TCU, it will take a herculean effort from their best defensive player, Dante Stills. During his career at West Virginia, Stills has recorded 21.5 sacks (sixth in school history) and 47.5 tackles for loss, which is just 0.5 TFLs from tying the school record. Stills is capable of taking a game over on his own, and if he can do so on Saturday against TCU, it would be monumental in helping the home team pull off the upset.
KEY STORYLINES
TCU Horned Frogs
Can TCU remain poised on the road? The Horned Frogs have defeated four-straight ranked opponents, but three of those, including the last two, have been at home. Morgantown can be tricky, and with the 11:00 a.m. kickoff, it's possible that we see a little bit of a travel hangover from TCU out of the gate. There's no doubt that TCU is the better team on paper, but the home team usually gets the edge for a reason. TCU should win this game if it takes care of business, the question is, will they?
West Virginia Mountaineers
Can West Virginia harness the power of its home crowd and find a way to pull off another home upset? Two weeks ago, Baylor fell victim to WVU on the road and now they will hope to lure TCU into a trap as well. West Virginia's offense will have to be much better than it was last week if they hope to keep up with TCU, but it would be best for the 'Eers if this game was low-scoring. Of course, that will be easier said than done against Sonny Dykes' offense.
PREDICTION: TCU 38, West Virginia 24
I have a feeling that TCU is going to win this game relatively comfortably, and it has everything to do with what we saw from West Virginia last week. After an emotional home win over Baylor, the Mountaineers had every chance to build some momentum and put up a good fight on the road. Instead, they rolled over after a quick start from Texas Tech and proceeded to get blown out. I don't think they will lose as badly at home, but I feel like a quick start from TCU would put this game to bed before it really even gets started.