Big 12 News
Texas Five-Star QB Commit Arch Manning to Enroll in January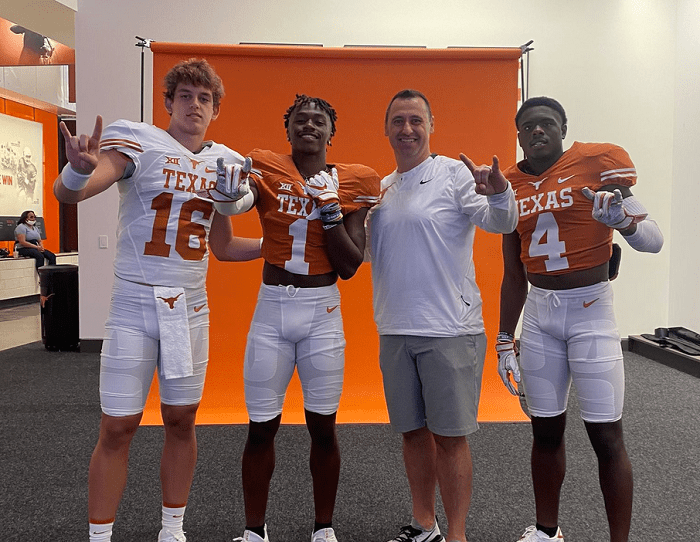 Texas football is in the midst of another disappointing season, it appears, as the 5-3 Longhorns are heading into the difficult stretch of their 2022 schedule.
After looking efficient in games against Oklahoma and Iowa State, quarterback Quinn Ewers, and Longhorn Nation for that matter, came crashing back down to Earth as a 19/49, three-interception day from Ewers sent UT to the loser's column in Stillwater.
While he is still young and uber-talented, this was the first sign of true non-injury-related adversity that Ewers has faced in college, and it looks as if he's got four or five games to figure it out before things heat up in Austin.
According to Rivals.com's Anwar Richardson, 2023 QB commit Arch Manning will be an early enrollee come January, and when that moment arrives, there will be a spectacle of a quarterback race happening in Austin.
Now, with Ewers as the incumbent starter, I'm not sure how much Sarkisian will actually consider it a battle, but fans and boosters around the program will certainly start to press if Ewers shows anything short of a Heisman-caliber year in 2023.
In his senior year at Isidore Newman (LA), Arch has led the Greenies to a 6-1 record and a second overall ranking in Louisiana 3A football.
Arch is the crown jewel of Texas' 2023 class, which ranks sixth overall as we head into November.
While that is still a long time off and there is a lot of football left in 2022, Manning's pending arrival has to be something that is on the back of everyone's mind in Austin. After all, he is the highest-rated quarterback prospect that Texas has landed out of high school since Vince Young.
That's high praise around Austin, and even more so with the last name Manning.