Baylor Bears
Four Thoughts on Baylor's 45-17 Win Over Texas Tech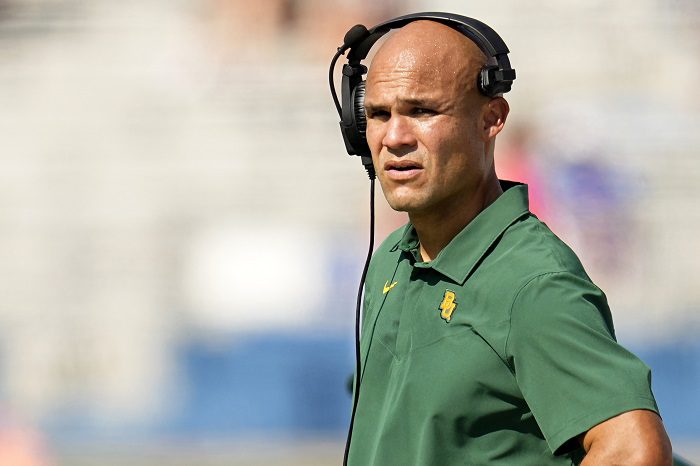 Another college football Saturday is here as there are plenty of big-time matchups in the Big 12 Conference. TCU escaped Morgantown and Oklahoma left Ames with a road victory as well. Meanwhile Kansas State blew Oklahoma State out.
But there was still one final game on Saturday evening between Texas Tech and Baylor otherwise known as the BUTT bowl. It was a wild Saturday night in Lubbock as Texas Tech had their blackout and also Patrick Mahomes' induction into the Texas Tech Hall of Fame.
With everything going on, there was still an important game to be played on the field as both teams are fighting for their Big 12 title hopes. In the end, Baylor would come out on top as they got their first win in Lubbock since 1990. Here are my four thoughts on the game.
1. Just Keep Running Baylor
In their last game against Kansas, I felt like Baylor got away from the run game a little bit despite rushing for over 250 yards. Offensive coordinator Jeff Grimes got a little too cute with the play calling. Every time Baylor ran the ball in that game, good things were happening. On Saturday night against Texas Tech, Baylor's offense ran the ball a whopping 59 times as they rushed for 231 yards and controlled the clock. Star running back Richard Reese ran for 148 yards and three touchdowns on the evening. Sometimes it is best to keep things simple when they work. Especially when your offense has the football for over 40 minutes.
2. Texas Tech Had Too Many Turnovers
I will get to the quarterback situation in a bit, but I was quite surprised to see Texas Tech turn the ball over five times against Baylor. Starting quarterback Behren Morton threw three picks and backup Donovan Smith threw one as well. Even Tyler Shough was picked off. It was Shough's first pass attempt since the season opener and it ended up being a pick six that helped seal the deal for Baylor. I don't care how good of a team Texas Tech is because you can't turn the football over five times in a game and expect to win.
3. Texas Tech's Quarterback Changes Were Confusing
As I mentioned above, Texas Tech used three different quarterbacks in this game. All of them ended up turning the football over but I could never quite figure out the rotation they had going on. Behren Morton struggled the entire first half, yet he was never pulled out of the game. After Morton led the Red Raiders to back-to-back touchdown drives, he suddenly was benched for Donovan Smith who ended up throwing an interception immediately. Once that happened, Behren Morton went back in the game and threw another pick. Then it was Tyler Shough's turn, and he threw a pick six on his first pass attempt. Despite the mistake, Shough would stay out there for the rest of the game. None of this made sense to me at all and I will never understand benching a quarterback after he leads a scoring drive.
4. Baylor is Still in the Hunt
After the win against Texas Tech, the Bears are now 3-2 in conference play. There are now five teams in the Big 12 who have more than two conference losses. It would be safe to say that those teams are likely out of the Big 12 title picture. Meanwhile the other five (TCU, Oklahoma State, Kansas State, Texas, and Baylor) are still in it. The Bears still have a tough schedule ahead but if they can win out then maybe they will find a way to get back to Arlington in December.