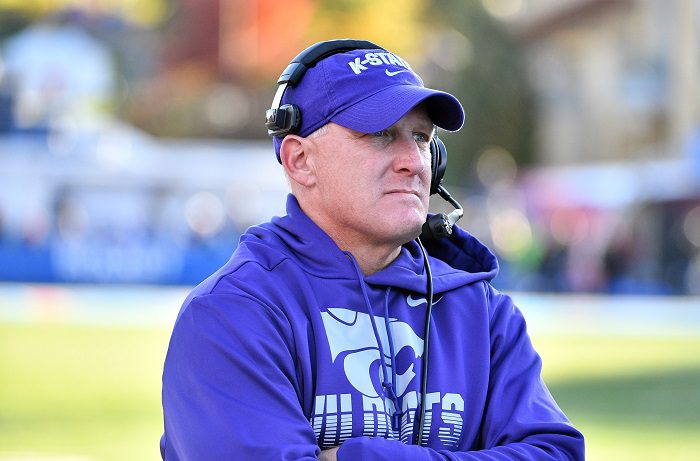 Another college football Saturday is here as there are plenty of big-time matchups in the Big 12 Conference. TCU escaped Morgantown and Oklahoma left Ames with a road victory as well.
While those two games were important, there was a matchup in Manhattan, Kansas to keep an eye on as Kansas State hosted Oklahoma State on Saturday afternoon. Both teams entered today with a loss in conference play but the winner of this one would put themselves in a great position to get to Arlington. What I thought would be a great game turned into a blowout fairly quickly. Here are my four thoughts on Kansas State's historic 48-0 win over Oklahoma State.
1. No Martinez No Problem
Last week against TCU, Will Howard went in at quarterback after Adrian Martinez left the game. He would go on to lead four straight scoring drives in that game but couldn't get anything going after that. Well, that wasn't the case today against Oklahoma State. Howard finished the game going 21/37 for 296 yards and four touchdowns. He did an excellent job leading the offense and he didn't turn the football over either. The game got so lopsided that Will left the game so Jake Rubley could come in for some snaps. It's not ideal for Adrian Martinez to be on the sidelines with an injury but Will Howard is a good enough quarterback to win ball games for Kansas State.
2. Oklahoma State Didn't Show Up
Will someone please check to see if Oklahoma State's football team is still in Stillwater? There was a game in Manhattan, Kansas that they were supposed to play in, but they never showed up. I know that there were some injuries, and that starting quarterback Spencer Sanders wasn't 100% healthy but there was no excuse for this performance today. Spencer didn't play well, and he ended up getting injured in the fourth quarter when the game was well over. The offense was pathetic, and the defense was even worse as they gave up 48 points and nearly 500 yards. There was not a single positive takeaway I have for Oklahoma State in this game. It is best to completely forget about this game and move on if you are an Oklahoma State fan.
3. Kansas State Controls Their Own Destiny
The Wildcats came into this game with a 3-1 record in Big 12 play as their only loss was to an undefeated TCU team last weekend. This was a must win matchup against a top ten Oklahoma State team. The loser of this one would need some help getting to a Big 12 championship game and the winner would still control their own destiny if they can win out. With the win, Kansas State can do just that. All they have to do is take care of business on the football field and they will find themselves in Arlington in December.  
4. This Was a Historic Game
Due to the score of the game, there were plenty of interesting stats from this game. For Oklahoma State, this was the worst loss ever under Mike Gundy. Before today, the worst loss under Mike Gundy came in 2005 when they lost to Texas A&M 62-23. As for Kansas State, this was the largest margin of victory against a Big 12 opponent since 2010 when they beat Kansas 59-7. Want an even crazier stat of the day? Check this out.