Big 12 News
K-State's Adrian Martinez Will be 'True Game-Time' Decision vs. Oklahoma State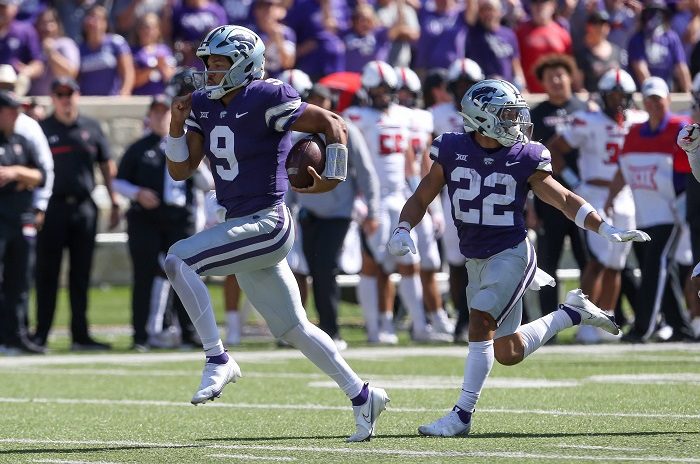 Earlier this week it was reported that Kansas State quarterback Adrian Martinez's status for Saturday's game against Oklahoma State would be up in the air this week.
That remains the case on Thursday afternoon, as Kansas State offensive coordinator Collin Klein says that Martinez remains a game-time decision, according to Kellis Robinett of the Kansas City Star.
Martinez missed all but the first offensive drive of last week's game against TCU, and is suffering from a deep knee bruise, according to reports.
This is more of the same, as head coach Chris Klieman said he was unsure if his starting quarterback would be available during his Tuesday press conference.
If Martinez is unable to go, K-State will turn to junior Will Howard, who stepped in a completed 13 of 20 passes for 225 yards and two touchdowns against TCU.
Despite Kansas State losing one of its top offensive weapons last week, Klieman was adamant that the Wildcats should've still won the game. Going into the Oklahoma State game, he feels the same way.
"Injuries? It's part of (the game)," Klieman said. "That's why you got 85. We got other guys who can come up and play. We'll be OK. And the thing about it is our kids knew that they had an opportunity to win the game no matter who was playing we had an opportunity to win the game. We just didn't make plays. We're not going to make excuses on who's playing injuries or not. We're going to get them ready and we got a tough one against Oklahoma State. We'll be ready."
UPDATE (Saturday, October 29th, 8:00 a.m. CST)
According to Pete Thamel of ESPN, Martinez remains a true game-time decision for the match up today.