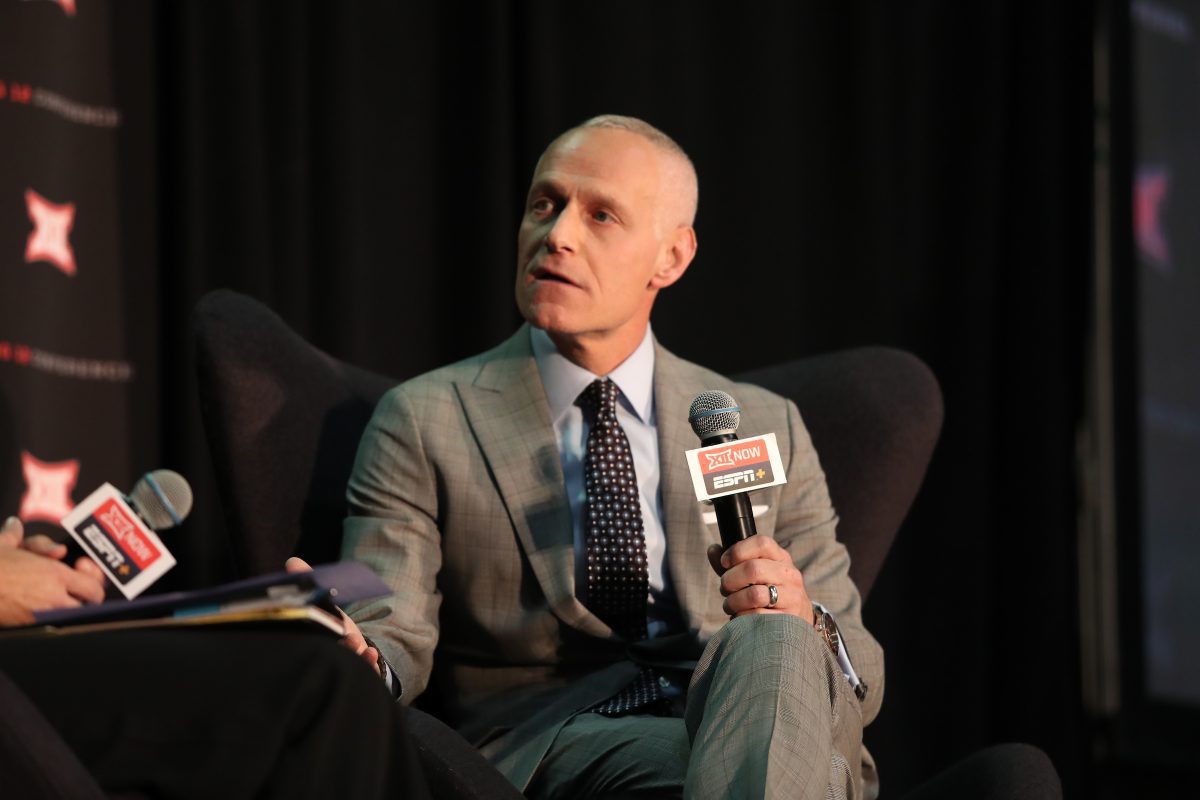 The Big 12 has a new television extension with ESPN and Fox, a six-year extension that will pay the league $2.28 billion, an annual average of $380 million.
This extension starts after Oklahoma and Texas leave the conference, meaning the valuation is based on the 12-team configuration that will be the Big 12 starting in the fall of 2025.
Here are five thoughts on the new extension.
Brett Yormark's First Big Win
Yormark took over officially in August and he could have done a lot of different things in his first three months. He clearly wanted to lock in some cost certainty for his new membership, once that went through significant discombobulation last year after OU and Texas announced their departure for the Big 12. The fact that the deal will provide a per-team payout of more than $31 million — which is more than the current deal with Texas and OU — represents a victory for Yormark.
Now, how can the Big 12 reach $50 million in revenue per team, a mark that I think is attainable in time? I'll go through that in a later article.
The end of the deal — 2030-31 — is strategic. It means the Big 12 can negotiate a new extension before the ACC and SEC are able to, but a year after the Big Ten's deal expires and that league has, theoretically, set the market.
Now What, Pac-12?
The Pac-12 school presidents are set to meet on Monday. So, that should be fun for all. Per the San Jose Mercury-News, a TV deal is not expected to be voted on, and USC and UCLA are not going to be part of the meeting.
Last week at Pac-12 basketball media day commissioner George Kliavkoff held details of the league's television negotiations close to the vest. He did say they're "progressing" and that he firmly believes the league's ultimate TV deal will be in the neighborhood of "$35-40 million per team." ESPN, Fox and Apple are all in the running.
The Pac-12 has been through exclusive negotiating windows with ESPN and Fox and gotten no deal. That may mean nothing in the long run, but Yormark clearly saw an opening and took advantage of it.
Now, Kliavkoff's job becomes a little harder. The remaining 10 members now see what the Big 12 was able to negotiate. They'll be able to compare what the Pac-12 is negotiating toward. I personally think Kliavkoff's valuation per team is too high. While the Pac-12 is also losing tentpole programs in USC and UCLA, unlike the Big 12, it's also losing its top media market in Los Angeles. That will matter.
Bob Thompson, a former Fox executive who has negotiated many of these deals, posted on Twitter that believes the Pac-12's new deal will be around $300 million per year. With 10 members, that's $30 million per. Is that enough to get anyone to jump ship? Maybe, maybe not. But Kliavkoff probably can't afford to let negotiations get below that number. Because …
What About Big 12 Expansion?
Yormark has made it clear he wants to expand. One of his targets is the Pacific time zone. He wants to be able to provide ESPN and Fox inventory for all four major time windows when it comes to football. He can't do that every week right now because BYU won't be home every week.
Per Max Olson at The Athletic, the deal is expected to include a pro rata clause. Basically, this allows the Big 12 to expand membership and work with ESPN and Fox to augment the deal. By re-negotiating, he can get more money on the deal, get more for his members and get more for potential new members.
This deal also means that Yormark doesn't have to be in a hurry to expand, either. He can allow the Pac-12 television process to play out. He has said he wants expansion to be "additive." Something tells me he would see certain Pac-12 schools as "additive."
What About Third-Tier Rights?
The reports of the new TV deal, first reported by John Ourand at Sports Business Journal, detailed the basics of the deal, including the structure of football and basketball, which are the biggest parts of any TV deal. But it didn't address third-tier rights.
Third-tier rights are basically Olympic sports, with a few less-than-desired basketball games thrown in (usually non-conference). Those rights then to be negotiated separately, so it's not surprising they're not included here.
But it does leave an open question — how will the league approach it? Right now, the league's third-tier rights are owned by ESPN and are on the Big 12 Now/ESPN+ Network, something Big 12 fans have a love-hate (mostly hate) relationship with. The exceptions are, of course, Oklahoma and Texas. The Longhorns have the Longhorn Network, and OU has SoonerVision, which is actually moving to ESPN+ this year as it prepares for its transition to the SEC and its TV contract.
Once OU and Texas are out, will the product change? Will ESPN put together a Big 12 Network? Does it really even matter at this point? It's worth tracking, especially if you want to watch baseball or softball without having to search that hard for it.
What's Next?
With a TV deal done, expect Yormark to start working on creating the "tentpole" events he talked about last week in Kansas City. We're not talking about the Big 12 Championship Game or the Big 12 Tournaments. We're talking about standalone events that he believes will generate revenue on their own. My suspicion is we'll start to see that vision come to fruition in the next six to nine months. And, of course, there's expansion, especially if the Pac-12 deal isn't to some schools' liking. If the Pac-12 stays together, I suspect Yormark might pounce fast for schools like San Diego State, which is in a large TV market and has the facilities to make a move to a Power 5 conference.
You can find Matthew Postins on Twitter @PostinsPostcard