Baylor Bears
Baylor OC Jeff Grimes Named as Auburn Coaching Target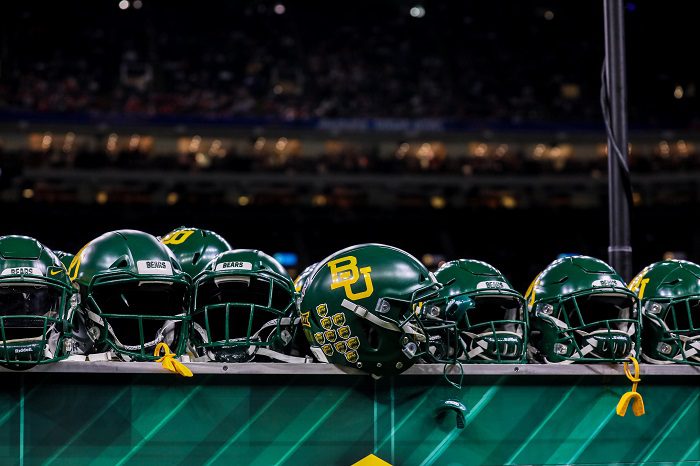 Baylor offensive coordinator Jeff Grimes has been one of the top coordinators in college football over the last couple of years as the Baylor play-caller, and it has garnered him plenty of attention.
Now, with Auburn firing Bryan Harsin on Monday, there is gonna be a whole new crop of candidates and the Baylor offensive coordinator is bound to be on the shortlist.
According to CBS Sports' Dennis Dodd, Grimes is on the list, and it has just as much to do with his ties as it does his recent body of work.
Here is what Dodd had to say about Grimes and his connection to the Auburn job.
"The tie for Grimes to Auburn is being the Tigers' offensive line coach from 2009-12 under Gene Chizik. That run includes a national championship. Since then, Grimes has bounced around but has become one of the more respected play callers in the game. In his last year as BYU's offensive coordinator, the Cougars averaged more than 43 points. Last season, Baylor won the Big 12 averaging 31 points per game. Offensive tackle Connor Galvin was all-Big 12. His star may have dimmed as the Bears have slipped to 5-3 this season."
Of course, Grimes isn't the only name with Big 12 ties that is connected to the job, as Dodd also lists former Baylor head coach Matt Rhule as a candidate, although it's not certain that he coaches anywhere in 2023.
"All indications are Rhule is going to sit out 2023, review his options, and maybe do some TV. This turnaround artist should be Auburn's No. 1 target, but he's smart enough not to get involved with the meddlers on The Plains. His next job should be at a place where it's absolutely set up to win (think Lincoln Riley at USC). Still, Auburn has to call and make Rhule say no for what would have to be $7 million to $8 million per year."