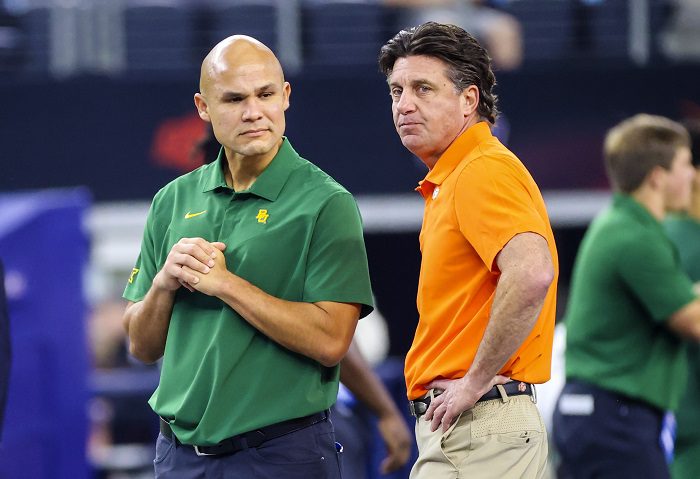 The 2022 college football season wrapped up Week 9 and the Big 12 season has crossed the halfway mark. There were four games this week, with TCU beating West Virginia 41-31, Oklahoma getting by Iowa State 27-13, K-State crushing Oklahoma State 48-0 and Baylor handling Texas Tech 45-14.
So now it's time for our Big 12 Power Rankings. Here's a reminder on how I've done this for years: It's about how your team looked and how it played, not always about if your team won or lost. And last week's rankings have little impact on this week's. That's what makes this fun. These are also not predictions for the way the season will end, just a Power Rankings based on the most recent performances.
1. TCU Horned Frogs (Last Week: 1)
The Horned Frogs continue to play with fire, trailing again on Saturday by a touchdown, twice, at West Virginia, but ultimately pulled off a 41-31 victory against the Mountaineers. TCU is now 8-0 on the season and ranked No. 7 in the latest AP Poll. The TCU offense is right up there with the best in the league and the defense is finding its footing. Now we will find where the College Football Playoff committee has them come Tuesday night.
2. Kansas State Wildcats (Last Week: 2)
The Wildcats had the most dominant performance of the Big 12 season on Saturday with a 48-0 win over Oklahoma State. The Cats never allowed the Pokes to get inside their own 38-yard line. That's unfathomable. They held OSU to 217 total yards, down from the more than 460 per game the Pokes were averaging coming into the match up. This is Chris Klieman's year to break through in the Big 12 and with one month to go, it's looking more likely by the week.
3. Baylor Bears (Last Week: 6)
The Bears have somewhat quietly won their last two games, which they had to win to stay in the Big 12 race, and they did it in impressive fashion, especially on Saturday night in Lubbock as they rolled Texas Tech 45-17. Baylor played its best game on the defensive line where they racked up six sacks and eight tackles for loss. This was the kind of performance I expected more of from that unit, but if they're finally hitting their stride, there is no better time than now.
4. Oklahoma State Cowboys (Last Week: 3)
The Cowboys got absolutely embarrassed on Saturday in Manhattan in one of the worst losses for a Top 10 team in college football history. It could not have gone any worse for Mike Gundy and the Pokes. Every facet of the team was a mess. Some want to argue OSU is a paper tiger, I don't believe that. I just think the injuries caught up to them and coming off an emotional home win against Texas led to a perfect storm of a dud. It happens, but they can't have another let down against Kansas, because the Jayhawks are coming off a bye and can beat them.
5. Texas Longhorns (Last Week: 5)
The Longhorns stay in the No. 5 spot since they were on a bye last week. As bad as Oklahoma State's loss was, I can't put Texas ahead of them given OSU beat the Longhorns in Week 8.
6. Oklahoma Sooners (Last Week: 7)
Well, the Sooners have now won two Big 12 games in a row after an 0-3 start. But I am still not convinced this team is very good. Their wins are against an improving Kansas team and then Iowa State, who fell to 0-5 in Big 12 play and has zero offense to speak of. We saw some solid improvements from OU, especially on defense, but I can't overreact to any of it just yet.
7. Texas Tech Red Raiders (Last Week: 4)
Texas Tech came crashing back down to earth following their big win over WVU last week. They lost to Baylor and come out of the game with more questions than answers. Behren Morton struggled for the first time in his early career and Tech gave reps at QB to Donovan Smith and even Tyler Shough. Are we going to get a QB by committee in Lubbock going forward or…? I'd let Morton work through the rest of the season. He's the future. This season is about building. But now, Tech goes to undefeated TCU on Saturday as big underdogs. It won't be easy.
8. Kansas Jayhawks (Last Week: 8)
The Jayhawks had a bye week, which they desperately needed after an incredibly emotional first half of the season that saw a 5-0 start, including College GameDay, to losing three straight. Now they welcome in a beaten and battered Oklahoma State on Saturday.
9. West Virginia Mountaineers (Last Week: 9)
To their credit, the Mountaineers put up a fight at home against TCU, but in the end, couldn't get it done, and couldn't even cover the spread on a terrible bad beat. It still feels like the end is near for Neal Brown, as the Mountaineers are highly unlikely to reach a bowl game as this team can't break a four-year streak of mediocrity on Brown's watch.
10. Iowa State Cyclones (Last Week: 10)
Iowa State lost its fifth game in a row Saturday, 27-13 against Oklahoma at home. The Cyclones came into the game averaging just 97 yards per game, which was 30 yards less per game than any other team in the Big 12 Conference. And against Oklahoma, it wasn't any better. In fact, it was worse. The Cyclones had 27 carries for a grand total of 66 yards for 2.4 yards per carry. And this was an Oklahoma defense that even after this game ranks dead last, by a mile, in rushing yards allowed per game. OU is giving up 189 yards per game on the ground (that includes the 66 vs. Iowa State!), which is 28 yards per game more than anyone else in the league. The defense is stout, but until they start scoring more points, I don't see how ISU begins the turnaround.