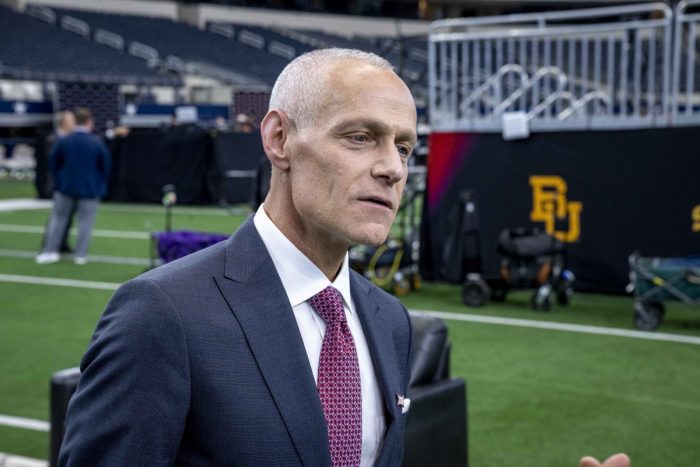 The Big 12's new media deal includes a new wrinkle — for the first time, Fox will have access to some of the Big 12's basketball inventory.
There are no details on what that entails, but it doesn't take much thought to figure out why Fox might want some Big 12 basketball.
The league has won the last two men's national titles — Baylor in 2021 and Kansas in 2022.
Every Big 12 team, men's and women's, won their first-round game in the NCAA Tournament last March.
Every Big 12 team — current and future — was in the Top 80 of Ken Pomeroy's preseason rankings.
The Big 12 has a basketball brand that makes it one of the best conferences, if not the best, in the country.
Commissioner Brett Yormark wants to keep building on that. He saw what basketball could do as president of the NBA's Brooklyn Nets.
"Basketball is huge. I mean, it's a global sport. It's played everywhere," Yormark said in Kansas City last month during Big 12 basketball media days. "And I'm truly excited to be part of this conference. On the men's side, we're arguably the No. 1 conference in America. I'm not sure from top to bottom any other conference stacks up to us. It's fantastic. As I was going through some of the data points this morning — no losses in the first round, winning the last two NCAA Tournaments — I mean, it's incredible. I'm excited to attend a lot of games this year and I'm excited for our basketball brand and where can go in the future."
While much has been written about what the Big 12 will lose in football after Oklahoma and Texas move to the SEC in 2025, it's a different narrative with men's basketball. While Texas is ranked in the preseason Top 25, Oklahoma is not. The four new members of the Big 12 — Cincinnati, Houston, BYU, and UCF — bring basketball pedigree.
Houston is ranked No. 3 in the country, ahead of any Big 12 team, in the AP Preseason Top 25. Houston is No. 7 in KenPom, just behind Texas (No. 2) and Baylor (No. 6) and just ahead of Kansas (No. 7).
BYU is No. 44, Cincinnati is No. 51 and UCF is No. 85.
If UCF were in the conference now, the Knights would be the lowest-ranked Big 12 team in KenPom.
Yormark has already announced that the league will be making changes to the Big 12 Basketball Tournament in Kansas City in March, including adding VIP experiences and moving media seating from the floor to make room for premium seating on the sideline.
You can find Matthew Postins on Twitter @PostinsPostcard