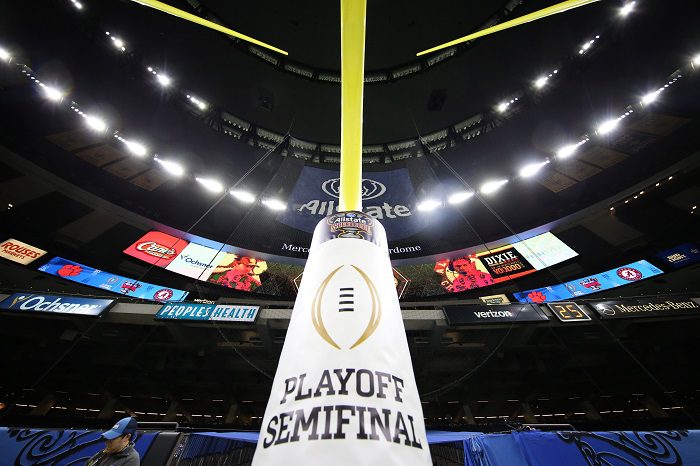 The month of November brings many things in the world of college sports. College football is in full swing, the start of college basketball begins and then of course we get the College Football Playoff rankings every Tuesday night.
There have been plenty of head scratching moments from the playoff committee on a weekly basis so I thought it would be fun to share my three thoughts on this week's playoff rankings.
1. Is TCU Too Low?
Out of all the undefeated teams, TCU is ranked the lowest coming in at number seven in the first playoff ranking. Tennessee, Ohio State, Clemson, Michigan, and Georgia are all ranked ahead of TCU. Even Alabama, who has one loss, is ranked ahead of the Horned Frogs. You can certainly make a case that TCU should be ahead of Alabama due to the record alone. Plus, Alabama hasn't looked all that great over the last three weeks and nearly lost to Texas in Week Two with Hudson Card playing quarterback for three quarters of that game.
I think a case could made that TCU should be ahead of Clemson, Michigan, and Georgia based on the resume alone. I understand that it is early and that this is the first ranking, but I hope this doesn't set the tone for a team like TCU moving forward, if they keep winning. There's no reason they should be behind a team with a loss while they are still undefeated.
2. Kansas State Got Respect
Despite having two losses, the Kansas State Wildcats are ranked 13th in the College Football Playoff rankings. I didn't see that coming, and believe or not, they are the second-highest ranked two-loss team in the country behind LSU. Kansas State's losses both come at the hands of ranked teams. Tulane checked in at number 19 while TCU was ranked 7th. It's not ideal to lose games, but it appears that Kansas State wasn't punished too harshly for losing those two games. The good news is they still have to play Texas and Baylor which could help get them into the Top Ten, if they take care of business.
3. This Conference is Deep
Reese Davis mentioned that the Big 12 isn't top heavy like some of the other Power Five conferences and he is right on the money. The Big 12 is the toughest conference to predict right now because you never know what is going to happen from week to week. TCU is leading the way, but Kansas State, Oklahoma State, and Texas aren't too far behind. Even Baylor, who has three losses on the season, is still in the hunt for a Big 12 title as well. There are just four games left in the regular season and it is going to be fun to watch this conference title race unfold. Plus, it was cool to see four Big 12 teams ranked in the Top 25 (#7 TCU, #13 Kansas State, #18 Oklahoma State, and #24 Texas) which is something we don't see very often.