Big 12 News
Kansas Self-Imposing Four-Game Suspension for Bill Self, Kurtis Townsend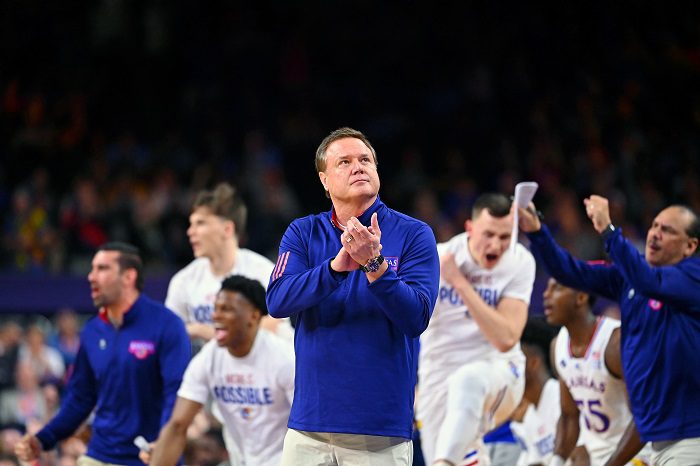 According to Stadium's Jeff Goodman, the Kansas Jayhawks will be without head coach Bill Self and assistant Kurtis Townsend to start the 2022-23 campaign.
The University of Kansas has decided to self-impose a four-game suspension for both Self and Townsend to begin this season, meaning that Self will miss the Champions Classic vs. Duke on November 15, and assistant Norm Roberts will serve as the acting head coach in his stead.
"Coach Townsend and I accept and support KU's decision to self-impose these sanctions," Self said in a statement. "We are in good hands with Coach Roberts, and I am confident that he will do a great job on the bench leading our team. I am proud of the way our guys have handled this situation and I look forward to returning to the bench for our game against NC State."
Kansas has released an official statement on the suspension and also spells out its own self-imposed recruiting restrictions as well.
The self-imposed sanctions stem from a 2017 investigation into the Jayhawks program, in which Self and Townsend allegedly knew that Adidas representatives were paying recruits. Of course, both have denied the allegations and claim to have not known anything about the ordeal.
Kansas isn't expected to receive its penalties from the NCAA until after the 2022-23 season, so it is unclear if this suspension will be the full extent of Self's punishments.
KU will begin its 2022-23 season without Self and Townsend against Omaha, North Dakota State, No. 7 Duke, and Southern Utah, with Duke being the only game away from Fog Allen Fieldhouse. Self's first game back will be against NC State, which will take place at the Imperial Arena in Nassau, Bahamas, in the Bad Boy Mowers Battle 4 Atlantis.