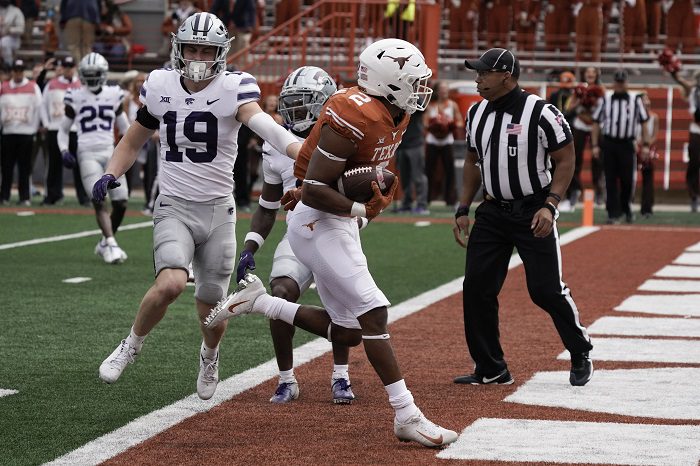 Some games are just better than others. It's a simple rule in the life of a college football fan and one that doesn't take long to figure out. Most nonconference games anymore are ho-hum, with FBS opponents taking on FCS opponents and beating their brains in by 42 points every other week.
Once conference play starts, things seem to get a little better, other than when your team plays the cellar dweller of the conference (you know who you are).
However, on every magical Saturday, there are a handful of games that are truly spectacles in their own right; games that you absolutely cannot miss out on, so you set your DVR (or your VCR I suppose) so that you can catch all the action if you must choose one over the other.
Those are the games we wake up for on Saturday.
Here are this week's Heartland College Sports' Staff Big 12 Games of the Week.
PETE MUNDO
There are so many good options this week. I'm going to roll with Baylor at Oklahoma. Odd choice? Maybe, but Baylor and Oklahoma have each won two in a row and the Bears are still in the race to play for a Big 12 Championship, while Oklahoma's chances are much less likely, I am intrigued to see how much better this team actually is after wins over Kansas and Iowa State. Plus, these two have played some really good games in recent years, with five of the last eight match ups decided by 10 points or less. If Oklahoma wins, it's the best win of the season for Brent Venables, while Baylor falls out of the Big 12 race. If Baylor wins, the Bears stay in the hunt and OU fans will be chirping again come Sunday. I can't wait.
BRYAN CLINTON
Baylor-Oklahoma was supposed to be the game of the year in the Big 12 this season as these two teams were the runaway favorites to land in the Championship Game this December. Now, both teams come into this game with 5-3 records and not nearly as much on the line as we expected, but this is still an extremely important game for both teams. For Oklahoma, this is a measuring stick game to see if they've truly gotten better over the last few weeks or if their improvement was more about the competition they were playing. For Baylor, beating the Sooners means keeping the Big 12 Championship hopes alive, and with two conference losses they are still right in the hunt.
MATTHEW POSTINS
Look the easy answer is Texas Tech at TCU. But the game I think is the big one is Texas at Kansas State. Right now, K-State controls its own destiny for second place in the Big 12. The Wildcats are by themselves as a one-loss team. If K-State wins its next two games — at home against Texas and on the road against Baylor — then I think they'll be in Arlington next month (West Virginia and Kansas remain, with the latter at home). The Wildcats don't want to have to play around with tiebreakers here, especially since they already have a loss to TCU. The race behind them is jumbled, with Oklahoma State, Texas and Baylor sharing third place. K-State already has one tiebreaker. Beating Texas would give it a second one. Texas heads to Manhattan coming off a bye week and probably the healthiest its been in a month. You have two of the best backs in the game squaring off in K-State's Deuce Vaughn and Texas' Bijan Robinson. Plus, there's the quarterback intrigue at K-State. It should be a great game.
DEREK DUKE
This conference has become a race between five teams which include TCU, Kansas State, Oklahoma State, Baylor, and Texas. So anytime these teams meet up it is going to be a huge game and that is exactly what we will get on Saturday night. Kansas State is still sitting pretty in the Big 12 with a 4-1 record in conference play. Meanwhile Texas is in a must win situation with already two losses in the Big 12. The Wildcats need to continue to win if they want to make it to Arlington and Texas needs to win just to keep their hopes alive. It is going to be an electric atmosphere in the Little Apple, and I look forward to this primetime night game.