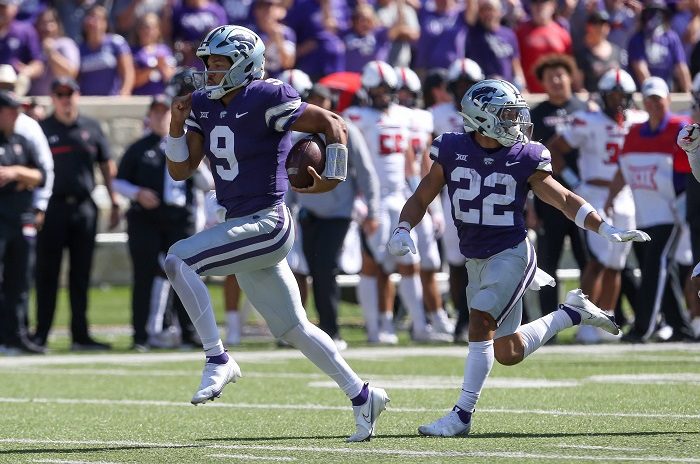 "WE OWN TEXAS!"
That was the rallying cry of K-State fans when watching their sports teams play against the Texas Longhorns. Wildcat fans chanted it at games and, heck, they even made t-shirts emblazoned with the words "we own Texas" that you still see people wearing to this day. Unfortunately, the chant has disappeared lately, as Texas has won five straight football games against K-State dating back to 2017.
From 1998 to 2016, K-State football beat Texas nine of 13 times, including five in a row from 2006 to 2012. (K-State also holds the all-time edge against Texas in basketball, winning 23 times versus 21 losses, but I will  stick to football.) Texas got the best of K-State in 2017 and, since then, has won five in a row. Most of the games have been close. Texas won by six in 2017, five in 2018, three in 2019, and five in 2021. The 2020 game was a blowout by a score of 69-31. Despite that aberration, I expect the 2022 version of this rivalry to be another close game.
I wrote last week that it was time for Chris Klieman to take K-State football to the next level. He delivered in a big way, as K-State beat at top 10-ranked Oklahoma State team 48-0 in one of the most dominating performances I have seen from a Klieman-coached K-State football team. The game was a great first step in taking the program to the next level, but there are two programs that Klieman has yet to beat in the Big 12: Texas and Baylor. Those happen to be the next two games on the schedule. Can Klieman's team take another step forward and take care of business this weekend? I like their chances.
K-State's defense was dominant against a good Oklahoma State offense on Saturday. The Wildcats have a championship-caliber defense that will keep them in every game they play, regardless of how the offense performs. Texas comes into the game with the 31st-ranked offense in the country, with the 43rd-ranked rushing offense and the 47th-ranked passing offense. K-State's defense is rising in the rankings, with the 44th-best total defense in the country. Slowing down Texas running back Bijan Robinson will be a key to the game. Robinson is 11th in the country in rushing yards and first in the Big 12. K-State has been good against both the run and the pass, but they will be tested on Saturday against the best running back they will face this season. If they can contain the Longhorn rushing attack, K-State should be able to win the game.
K-State's offense is coming around and looked fantastic with Will Howard running the show against Oklahoma State. Nobody knows if Adrian Martinez will be able to go on Saturday, as it looks to, once again, be a game-time decision. If he can't go, I have confidence in Howard behind center. He admitted after the game on Saturday that the game is slowing down for him, and he is playing with confidence that I have not seen from him before. Texas' secondary is suspect, as they are ranked 92nd in the country in pass defense, giving up 249 yards passing a game. Either Martinez or Howard should find success throwing the ball against the Texas defense.
A wildcard in this game is Quinn Ewers. He has been fantastic at times and not so good at other times. In his last game against Oklahoma State, he completed 19 of 49 passes for 319 yards with two touchdowns and three interceptions. For comparison's sake, Will Howard was 21 of 37 passing for 296 yards and four touchdowns against that same defense. Will we see the Quinn Ewers that played against Oklahoma, where he passed for 289 yards and four touchdowns, or will we see the Quinn Ewers that played against Oklahoma State? I will tell you this much. If Ewers throws the ball to K-State defenders three times, K-State will win this game easily.
Texas has been scoring an average of 36.4 points per game, and K-State has been giving up 17 points per game. The Wildcats have held every team they have played to fewer points than their scoring average. Something has to give here, and I am guessing that the K-State defense will step up again, helping Chris Klieman get the Texas monkey off his back and get the win.
K-State 27, Texas 24.
I predict we will hear the "We own Texas" chant again on Saturday night, and it will be music to my ears.