TCU Horned Frogs
Sonny Dykes Credits Gary Patterson For Why He Picked TCU Over Texas Tech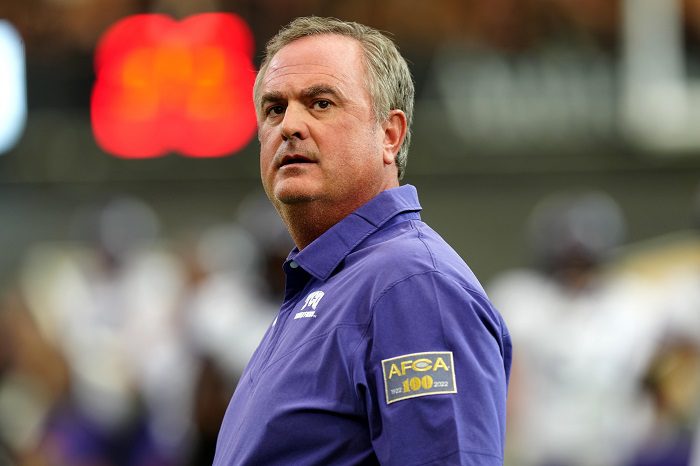 Sonny Dykes and TCU are a match made in heaven through eight games as the Horned Frogs are undefeated and ranked No. 7 in the initial College Football Playoff rankings.
There were questions about the fit coming into the season, but Dykes has silenced all the doubters and has TCU playing the best it has in five years.
TCU is the lone unscathed team standing atop a pile of broken and beaten teams in the Big 12, the most brutal and unforgiving conference in college football. However, it didn't get much credit for that on Tuesday night when the CFP Committee ranked them behind a one-loss Alabama and the other five remaining undefeated teams.
TCU's brand isn't quite the attention grabber that Ohio State, Alabama, or Georgia are, and that is an issue when it comes to the College Football Playoff Committee, the talking heads, and the countless buffoons that only see brands rather than metrics.
"In college football today, people have a hard time seeing past the brands," Dykes said last week before TCU's 41-31 win over West Virginia. "But this has a chance. It really has been a really good place."
"It's obviously been done," Dykes said, crediting former head coach Gary Patterson, who led TCU squads to top 11 finishes of the AP Top 25 seven times from 2005-17.
Patterson built TCU into a recognizable brand over two decades, leading TCU to a 181-79 overall record, including nine seasons in which the Horned Frogs won 11 or more games, with a stretch from 2008 to 2011 where they went 47-5 and won the 2011 Rose Bowl.
After Dykes was fired from the head coaching gig at Cal, Patterson brought him in as an analyst and helped him reshape the course of his career.
"If it hadn't been for Gary, I don't know what I'd be doing right now," Dykes said. "He was great to me. He gave me a job. I learned about how passionate he was about what he did. It was good for me. That flame burned hot. I had been at Cal for four years, and man, I was worn out."
Dykes also credits Patterson for being the reason why he chose TCU over Texas Tech when the job offers started flying in.
"Gary Patterson made me realize how good a job it was, how good you could recruit," Dykes added. "Growing up, I didn't know how good this place was. Man, football is really important to the university and the city."
Now, on Saturday, Dykes and the Frogs will host Texas Tech, the program where his father Spike coached for 14 years. Kickoff is set for 11:00 a.m. CT, with TCU being favored by 9.5 points.