featured
Fact or Fiction Friday: KU, Iowa State Miss Bowl Games, 13-0 TCU Left Out of CFP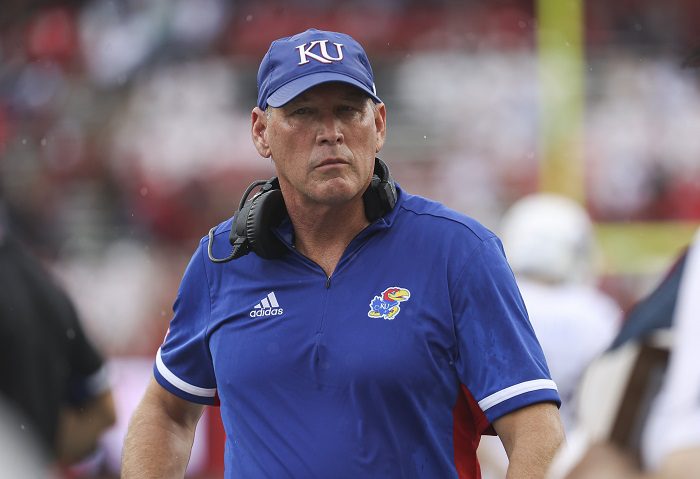 Welcome to Fact or Fiction Friday. Each Friday I give you the opportunity to ask the most intriguing questions in the Big 12 Conference and I will tell you whether they come true or if they are set to fail. Let's crack it open and see what we have in store this week.
Kansas Will Win Another Game.
Fiction: It feels like this Kansas team has been stuck at five wins for the last two months with the way this year has been. The Jayhawks got off to a 5-0 start this season and then fell flat as they have lost three straight games. It didn't help that their starting quarterback Jalon Daniels got hurt and missed the last few games, but they have missed some opportunities to get that sixth win. According to head coach Lance Leipold, Daniels is practicing again which means we should be seeing him back on the field sooner rather than later. However, they have an extremely tough schedule ahead. Kansas has to play Oklahoma State and Texas at home and then travel to Texas Tech and Kansas State. I am sorry but I don't see them winning any of those games.
Texas Will Upset Kansas State.
Fiction: I have gone back and forth on this game for the last few days and I still can barely make up my mind. Texas is a good football team. I may have had them a tad too low in my preseason rankings because they have some solid players. Their defense has shown improvements and they still have two great weapons on offense with Bijan Robinson and Xavier Worthy. But this game is in the Little Apple, and I am not so sure Quinn Ewers will be able to handle that atmosphere on Saturday night. He struggled on the road against Oklahoma State, and I believe the same will happen against Kansas State. Plus, I really love the way Kansas State has been playing lately. That defense of theirs is stout and Will Howard looks like a completely different quarterback this season. It is going to be a close game but give me Kansas State at home.  
TCU Will be left out of the CFP if they go undefeated and win a Big 12 title.
Fiction: There is no way that a power five team can go 13-0 (with a conference championship) and be left out of the College Football Playoff. If that happens, then bring back the BCS or blow the entire playoff model up and expand now. I know the committee would love to see four SEC teams in there no matter their record but TCU should not and will not be left out if they win out.
TCU Will lose two more games before the Big 12 title game.
Fiction: TCU is already off to an 8-0 start to the season, and I don't see them losing two of their final four games. The Horned Frogs still have Texas Tech, Texas, Baylor, and Iowa State still left on their schedule. With the way they are playing right now, there is no chance that they will go 2-2 in the final month of the regular season. All TCU has done this season is find ways to win and they will continue to do that. Maybe they fall to Texas or Baylor on the road, but TCU will likely be 11-1 as they head to Arlington to play for a Big 12 title.
Iowa State Will make a bowl game.
Fiction: I feel like I have been asked this every week and I have finally changed my answer. That game against Oklahoma was a must-win and they just couldn't find a way to win. Iowa State is now 3-5 on the year and will need to win three out of their next four games to get a bowl bid. The Cyclones have to play West Virginia, Oklahoma State, Texas Tech, and TCU. I don't see them beating Oklahoma State or TCU, but it is possible that they can get wins over Texas Tech and West Virginia. Sorry Cyclone fans but 5-7 is more realistic than 6-6 at this point.