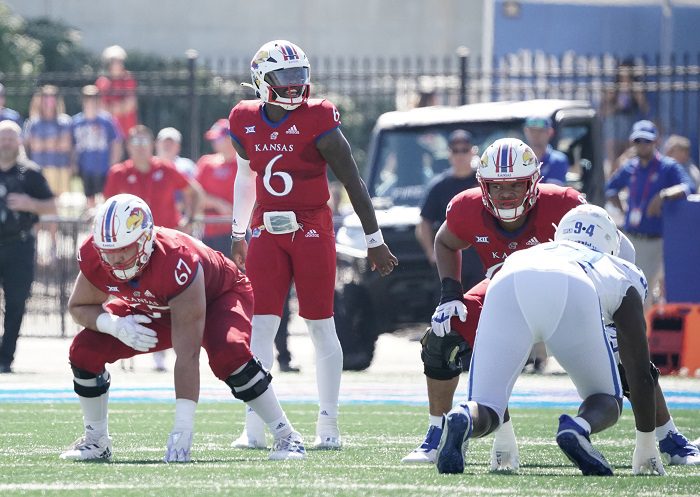 Here is everything you need to know about the upcoming matchup between the Oklahoma State Cowboys and the Kansas Jayhawks.
GAME INFO
Saturday, November 5, 2022; 2:30 p.m. CT; David Booth Memorial Stadium; Lawrence, Kansas
TV: FS1 (Tim Brando, Spencer Tillman)
Radio: Cowboy Radio Network (Dave Hunziker, John Holcomb, Robert Allen); Jayhawk Radio Network (Brian Hanni, David Lawrence, Brandon McAnderson)
Records: Kansas (5-3, 2-3); Oklahoma State (6-2, 3-2)
Rankings: Kansas unranked; Oklahoma State ranked No. 18 (AP Top 25)
Last Week: K-State 48, Oklahoma State 0; Kansas on Bye
Series History: Oklahoma State leads 40-29-3
Last Meeting: Oklahoma State 55, Kansas 3 (2021)
Favorite: Kansas (-1)
Fun Fact: Oklahoma State has won 17 of the last 18 games in this series, excluding the 2007 meeting in which Kansas won 43-28 in Stillwater.
KEY PLAYERS
Oklahoma State Cowboys
QB Spencer Sanders
The health of Spencer Sanders is paramount for Oklahoma State's success on Saturday, because Gunnar Gundy getting his first start on the road in an all-of-the-sudden rowdy David Booth Memorial Stadium is not ideal. If Sanders can go, I highly doubt that he is at 100% after seeing the amount of pain that he was in after that hit late in the game against K-State. A hobbled Spencer Sanders is still experienced, although it might not be the best-case scenario to for the Pokes to keep playing him injured moving forward. It's going to be a tricky situation on Saturday for sure.
S Jason Taylor II
There's a good chance of rain in Lawrence on Saturday, but I don't see that stopping the Jayhawks from trying to push the ball downfield, regardless of who they have at quarterback. The KU offense has been explosive in 2022, which means that Oklahoma State safety Jason Taylor is going to be busy. Taylor leads the Pokes in interceptions (3) and PBUs (6) and is second on the team in tackles (54). With Jason Bean under center, the Jayhawks have been more prone to turnovers and Taylor can make them pay. The question is if Jalon Daniels gets the start, will OSU be able to force him into mistakes?
Kansas Jayhawks
QB Jalon Daniels
Kansas quarterback Jalon Daniels is 5-1 as a starter and the Jayhawks are 0-2 since his departure, and it hasn't necessarily been because of quarterback play. Jason Bean has actually been pretty potent replacing Daniels, but the defense has been putrid. If Daniels is back, and I have a feeling he will be, it will be a big boost of confidence for Kansas. With Daniels back in the fold, Kansas can win this game with or without Spencer Sanders on the other side.
DE Lonnie Phelps
Defensive end Lonnie Phelps has been Kansas' difference-maker as a pass-rusher and he will need to be that on Saturday against a struggling Oklahoma State offensive line. Last week, the Cowboys gave up three sacks against K-State and was only able to manage 1.8 yards per rush. If Gunnar Gundy gets the start, he will definitely need to be aware of Phelps at all times as he ranks in the Top-25 nationally with six sacks.
KEY STORYLINES
Oklahoma State Cowboys
Can Oklahoma State weather the storm and get back on the horse after taking one on the chin last week against K-State? Mike Gundy is coming off the worst loss of his career, and might be forced to start his son at quarterback in place of an injured four-year starter in Spencer Sanders. This is a tough spot for the Pokes against an upstart Kansas team, but they've always found a way to win games like this under Gundy. Gundy is 40-23 after a loss in his time at Oklahoma State, so more often than not he keeps his team from falling into a losing streak. We will see if that is the case on Saturday in Lawrence.
Kansas Jayhawks
Does Jalon Daniels get the start after a bye week to rest and recuperate? The Jayhawks desperately need their leader back and are just one win away from reaching bowl eligibility. Kansas hasn't beaten Oklahoma State since 2007 and in the last two matchups, KU has been outscored 102-10. A win this weekend would not only give Kansas a bowl berth, but it would also be a monumental victory for the program to take down a team that has owned the Jayhawks in recent history. I expect a dogfight in Lawrence on Saturday.
PREDICTION: KANSAS 33, OKLAHOMA STATE 31
Jalon Daniels returns, Spencer Sanders is out with a shoulder injury, and Kansas finally snaps a 12-game losing streak to Oklahoma State to get to bowl eligibility. Kansas is just catching Oklahoma State at the right time and I think their offense is good enough to make OSU pay. The difference in the game is something nobody is talking about: Oklahoma State's defense. While Oklahoma and Kansas have caught plenty of flak for their defensive struggles in the past few weeks, it is actually the Oklahoma State defense that ranks last in the Big 12, giving up 455.2 yards per game. Kansas isn't much better, ranking ninth at 439.1 yards per game, so expect points on both sides. However, I will take Jalon Daniels over a hobbled Spencer Sanders or a redshirt freshman in Gunnar Gundy making his first start.