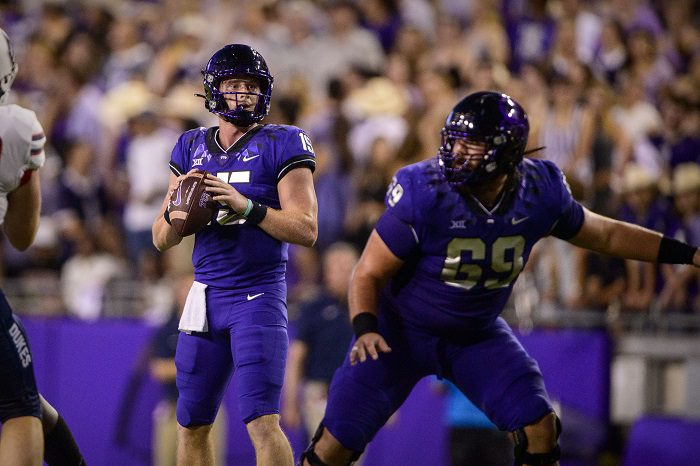 Here is everything you need to know about the upcoming matchup between the Texas Tech Red Raiders and the TCU Horned Frogs.
GAME INFO
Saturday, November 5, 2022; 11:00 a.m. CT; Amon G. Carter Stadium; Fort Worth, Texas
TV: FOX (Gus Johnson, Joel Klatt, Jenny Taft)
Radio: Texas Tech Sports Network (Brian Jensen, John Harris, Chris Level); Texas Tech Sports Network (Brian Jensen, John Harris, Chris Level)
Records: Texas Tech (4-4, 2-3); TCU (8-0, 5-0)
Rankings: Texas Tech unranked; TCU ranked No. 7 (AP Top 25)
Last Week: Baylor 45, Texas Tech 17; TCU 41, West Virginia 31
Series History: Texas Tech leads 32-29-3
Last Meeting: TCU 52, Texas Tech 31 (2021)
Favorite: TCU (-9.5)
Fun Fact: The winner of the annual game between TCU and Texas Tech is presented with the traveling Saddle Trophy, which bears plaques marking the score of each meeting between the rival schools. The teams have met 63 times since 1926 in the West Texas Championship, but the Saddle Trophy was first awarded from 1961 through 1970. During this ten-year stretch, the schools split the series 5–5 but the trophy was lost and the rivalry name disappeared for decades until the moniker and trophy were reintroduced in 2017.
KEY PLAYERS
Texas Tech Red Raiders
QB Behren Morton
Last weekend against Baylor, quarterback Behren Morton experienced his first dose of adversity in a Texas Tech uniform, as the Bears not only kept him in check but forced him into costly mistakes in a 45-17 loss. Morton completed 11 of 34 passes for 152 yards and one score but was responsible for three of Texas Tech's five interceptions on the day, with both Donovan Smith and Tyler Shough tossing one apiece as well. For Texas Tech to get back in the saddle, Morton will need to take better care of the football and have a much more productive game against TCU.
LB Tyree Wilson
Last week against Baylor, Texas Tech linebacker Tyree Wilson was one of the lone bright spots for the Red Raiders on the day. Wilson recorded 10 tackles, two tackles for loss, and recorded his 41st QB hurry of the season, which leads the Power Five. Wilson has worked himself into position to be a first-round selection in next year's draft, and he will need to put that on display against a potent TCU offense.
TCU Horned Frogs
QB Max Duggan
Max Duggan is the leader of the 3rd-best scoring offense (44.3 ppg) and fourth-best total offense (518.6 ypg), and to this point in the season has been uber-efficient. On the year, Duggan is 149 of 221 (67.4%) for 2,212 yards, 22 touchdowns, and just two interceptions. He's also added 276 yards and four scores on the ground and has proven himself capable of being a true dual-threat quarterback. In Garrett Riley's scheme, Duggan has soared and will look to continue that against a Texas Tech defense that just gave up a season-high 45 points to Baylor.
S Bud Clark, CB Josh Newton
TCU sophomore safety Bud Clark and junior cornerback Josh Newton have been the main contributors in the TCU defensive backfield in 2022, and have been some of the best at their position in the Big 12 in 2022. Clark leads TCU with three interceptions on the year (14th nationally), while Newton leads the team in passes defended and has two interceptions of his own. TCU's secondary will be busy against Zach Kittley's air raid scheme, meaning Clark and Newton have a large role to play in the outcome of this game.
KEY STORYLINES
Texas Tech Red Raiders
Which Texas Team shows up on Saturday? Two weeks ago, we saw the Red Raiders jump all over West Virginia to the tune of 48-10, then Baylor flipped the script on them this week with a 45-17 beatdown. If the team that we saw two weeks ago shows up, TCU will be in for a dogfight and one that they might struggle with. However, if last week's team pulls up in Fort Worth, the Horned Frogs might embarrass their rivals from Lubbock.
TCU Horned Frogs
Can TCU stay the course and take care of business? One of the biggest surprises of the 2022 season has been Sonny Dykes immediate success in Fort Worth. Now, can they continue to take steps and keep their winning streak alive. A home game against the third-to-last team in the conference might be a cake walk in any other conference, but not in the Big 12. No, just last week 3-5 West Virginia took TCU to the wire before a late touchdown helped TCU cover. This league is as tough as it gets, and we will have to wait and see if TCU can keep rolling.
PREDICTION: TCU 41, TEXAS TECH 27
I like TCU to keep its winning streak alive in this game as I feel the Horned Frogs will just be too much for Joey McGuire and the Red Raiders. Texas Tech will have this game close going into halftime, but TCU will make adjustments at the break, as it has done all season, and will come out firing in the second half to pull away. Sonny Dykes and the Frogs will move to 9-0 and 6-0 in conference play, putting them just one more win away from likely locking up a spot in the Big 12 Championship game.