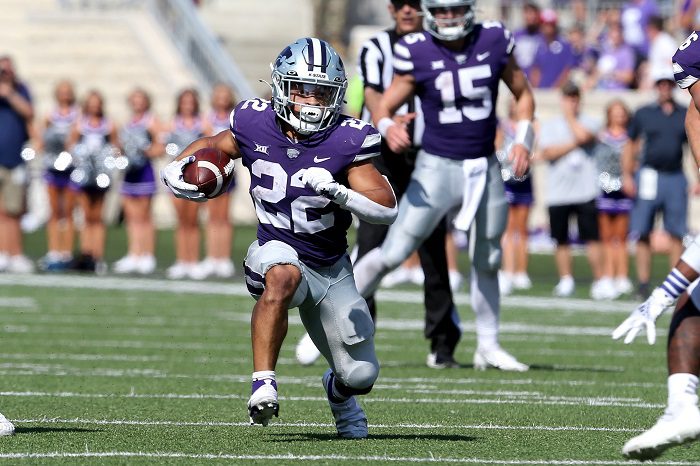 Here is everything you need to know about the upcoming matchup between the Texas Longhorns and the Kansas State Wildcats.
GAME INFO
Saturday, November 5, 2022; 6:00 p.m. CT; Bill Snyder Family Stadium; Manhattan, Kansas
TV: FS1 (Jason Benetti, Brock Huard)
Radio: Longhorn Radio Network (Craig Way, Roger Wallace, Will Matthews); K-State Sports Network (Wyatt Thompson, Stan Weber, Matt Walters)
Records: Kansas State (6-2, 4-1); Texas (5-3, 3-2)
Rankings: K-State ranked No. 13 (CFP Rankings); Texas ranked No. 24
Last Week: K-State 48, Oklahoma State 0; Texas on Bye
Series History: Texas leads 12-10
Last Meeting: Texas 22, Kansas State 17 (2021)
Favorite: Texas (-2.5)
Fun Fact: Texas is currently riding a five-game winning streak against K-State dating back to 2017. It is the program's longest-winning run against the Wildcats.
KEY PLAYERS
Texas Longhorns
QB Quinn Ewers
Last time we saw Texas quarterback Quinn Ewers on the field, he had the worst performance of his young collegiate career, completing just 19 of 49 pass attempts (39%) for two touchdowns and three interceptions in a 41-34 loss to Oklahoma State. The defense that he will face this weekend just held Oklahoma State to 0 points and sacked Spencer Sanders three times. By no means will Manhattan be an easy environment for the redshirt freshman to find success, but we will see how he responds to adversity over the next two weeks against the Big 12's top two teams.
LB Jaylan Ford
Texas linebacker Jaylan Ford is the Big 12's leading tackler with 72 total stops. The Longhorns' defensive leader also has recorded two sacks, one PBU, one interception, and one forced fumble on the year. On Saturday, Ford will have the biggest challenge of his season to this point: stopping Deuce Vaughn. One of the Big 12's best running backs, Deuce Vaughn is as shifty as they come and is someone that can change a game with a single play. Jaylan Ford's one job is, quite simply, to keep him from doing just that.
Kansas State Wildcats
QB Will Howard
We were so wrong about what Will Howard is capable of, and he showed us that last week against Oklahoma State. I wrote off the Wildcats after hearing that Adrian Martinez would be out against OSU and all Howard did was go out and complete 21 of 37 attempts for 296 yards and four touchdowns. His play in the passing game, along with the emergence of Malik Knowles opened things up for Deuce Vaughn. If Howard continues to play as he did against Oklahoma State, K-State will be very tough to beat going forward.
DE Felix Anudike-Uzomah
K-State's incredible pass rusher Felix Anudike-Uzomah built on his tally as the Big 12's sack leader, now having 7.5 sacks on the year, good for third nationally. Anudike-Uzomah also has two forced fumbles on the year, good for 20th nationally in that statistic, and creates a mismatch with nearly any offensive tackle he faces. Texas has very talented, but very young players along the offensive line, and Anudik-Uzomah is going to be the biggest test they've seen all season, save Alabama's Will Anderson.
KEY STORYLINES
Texas Longhorns
Can Quinn Ewers forget his performance two weeks ago and elevate Texas' offense on the road? It feels as if Texas' 2022 season is on the verge of going one of two ways: either emerging as a real threat at the Big 12 Championship Game or going down the same road that it went on last year. The Longhorns have back-to-back games against the conference's top teams in K-State and TCU. How they handle this challenge could go a long way in deciding the outcome of their season and what Sark's job security looks like heading into 2023.
Kansas State Wildcats
Kansas State's dominant win last weekend saw them rise to No. 13 in the initial College Football Playoff rankings, but how much can we trust what we saw? Is Will Howard the starter now after what we saw against Oklahoma State, or will Adrian Martinez return to play as soon as he is able? We were left with several questions after a beatdown like that, and the game against Texas will tell us a lot. If K-State goes out and takes care of Texas, then we can consider them one of the two favorites to make the Big 12 Championship. If not, they could fall into a four-way tie for second place and things could get very interesting.
PREDICTION: TEXAS 31, KANSAS STATE 28
My eyes tell me that Kansas State should win this football game, but my gut says that Texas wins, and it's all because of matchups. Texas is actually pretty solid defensively in 2022 and ranks third in the Big 12 in rushing defense (121.6 ypg). That will be the key, as I think UT can limit Deuce Vaughn and keep the K-State offense from reaching full throttle. On the flip side, I think we see a bounce-back performance from Quinn Ewers on the road and his play will be enough to separate Texas from K-State. If Texas wins, it will force at least a tie for second place in the conference standings and create even more chaos in an already crazy Big 12 race.