Baylor Bears
Three Thoughts on Baylor's 38-35 Win Over Oklahoma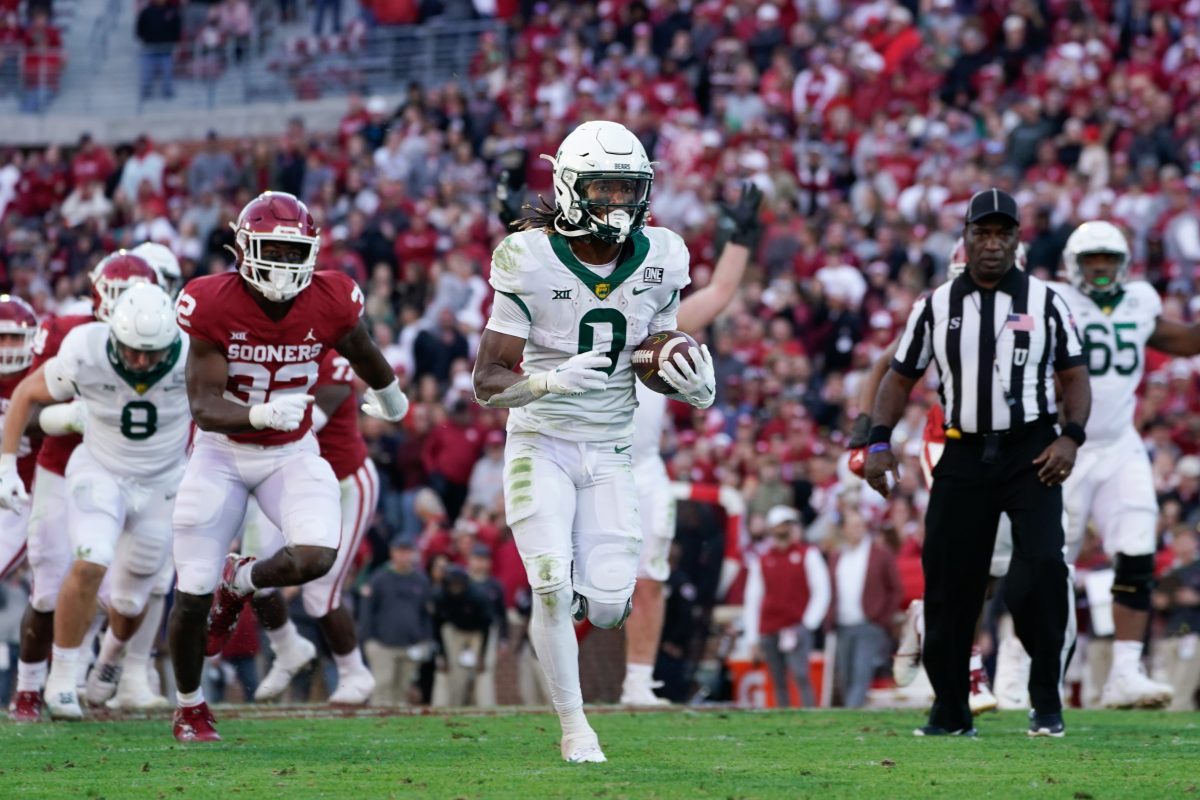 The Baylor Bears' physical running game finally wore down the Oklahoma defense to pull away late in a 38-35 win in Norman.
The win moves Baylor to 6-3 overall and 4-2 in conference play, keeping them in the hunt for the Big 12 Championship. Meanwhile, Oklahoma falls to 5-4 overall and 2-4 in conference play.
Here are three thoughts on the game and what it means for both teams going forward.
Turnovers Cost Sooners Dearly
When looking at the box score, the Sooners outgained the Bears 499-413 and doubled them up in passing yards, throwing for 261 to Baylor's 132. However, Baylor came out victorious and much of the credit has to go to Baylor's opportunistic defense. Baylor picked off Sooners' QB Dillon Gabriel three times, all of them off of tipped balls, and that was the difference in the game. Baylor turned those interceptions into 10 points and that was enough to win them the football game. Baylor's offense was efficient running the football, ending the day with 281 yards on the ground. Blake Shapen managed to take care of the football, for the most part, throwing just one interception and BU won the turnover battle 3-1, and consequently the football game.
Fourth Down Conversions Key for Baylor
Nobody in the country has more fourth-down attempts than Dave Aranda's Bears, and on Saturday it was easy to see why they continue to do so. Regardless of where Baylor was on the field, they elected to go for it three times today and converted all three attempts, allowing them to extend drives and ultimately score points and chew clock. It also help that Craig "Sqwirl" Williams turned 25 rushing attempts into 192 yards and two scores on the ground. Oklahoma's defense was terrific on third down, holding Baylor to just 4-13 on the day, but the fourth down mentality that Aranda brings to the field was too much for Oklahoma to overcome and get them off the field. During the Bears' final scoring drive, they converted a 4th-and-1 on a two-yard run and seven plays later ran it in to give Baylor a 10-point lead that proved too much for Oklahoma to overcome.
Don't Count the Bears Out of the Big 12 Race
Quietly, the Baylor Bears have worked themselves into a good position to play their way into a Big 12 Championship appearance. With today's win, Baylor is 4-2 in conference play and is guaranteed at least a tie for third place going into next week. Plus, Kansas win over Oklahoma State would eliminate the need for Baylor to worry about a tiebreaker, as that would give Oklahoma State a 3-3 conference record. Baylor needs to win out and has a tough schedule ahead with K-State, TCU, and Texas remaining, but they get the first two of those games at home before hitting the road to Austin to finish the season. With their win and an Oklahoma State loss, Baylor now controls its own destiny. Today was a big step for Baylor getting back to Arlington, and they did their part to stay right in the thick of the Big 12 race.