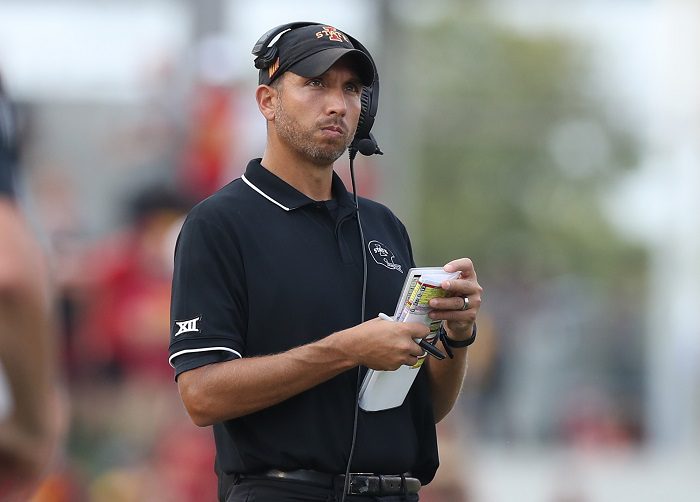 As we make our way into the final month of the regular season, the Big 12 title picture is starting to clear up. There are still plenty of important games left and even though the game between West Virginia and Iowa State may not have Big 12 title implications, it is still a big matchup for several reasons.
Both teams entered today with a 3-5 record and are still fighting for a bowl bid late into the season. A win for either team means they can keep their bowl hopes alive while a loss will be a major setback. While this matchup may not be a well-known rivalry game, it is known as the Riot Bowl. Anytime a game has a name for it, it is big in my book. Here are my three thoughts on Iowa State's win over West Virginia in the Riot Bowl.
1. Iowa State's Offense Woke Up Late
Iowa State's offense scored just ten points in the first three quarters, and it looked like this team was going to be in another close game. However, they found some life late in the game. The offense had 222 yards in the final two quarters, and they ended up scoring 21 points in the fourth quarter. Iowa State had opportunities prior to the fourth quarter but failed to put it in the end zone more than once. Hunter Dekkers played his best game in weeks and Xavier Hutchinson had another monster performance as he broke his own single season reception record. However, it was the run game that surprised me. The Cyclones ran for a whopping 173 yards on the ground with Deon Silas and Cartevious Norton leading the attack. Their 173 rushing yards is their highest in Big 12 play and their most since week one when they ran for 176 yards against Southeast Missouri State.
2. It's Time for Neal Brown to Go
I have defended West Virginia Head Coach Neal Brown several times this season but after this game, I am done with him. West Virginia has been in some close games, and I had my doubts after they got blown out against Texas Tech two weeks ago. They followed that miserable performance up with a nice game where they nearly knocked off TCU in Morgantown last week. But after this game against Iowa State, I am officially done with Neal Brown as the head coach. This is his fourth season as the head man, and he has an overall record of 20-24 and a Big 12 record of 12-20 after the loss. The offense looks pathetic, and the defense has issues of their own. During his time in Morgantown, this program hasn't taken steps forward, they have taken steps back. West Virginia has to win out to become bowl eligible and I have no faith in that happening. It is going to take a lot of money but Neal Brown shouldn't be the coach next season.
3. Iowa State Keeps Their Bowl Hopes Alive
After losing to Oklahoma last week and falling to 3-5 on the year, I didn't think the Cyclones would have much of a chance to get to six wins. With four games left, they needed to win three of their final four just to become bowl eligible. I know that there are still some big games ahead as Iowa State will face Oklahoma State, Texas Tech, and TCU. With the win today, that bumped the Cyclones to 4-5 which means they just need two more wins to get to six. Oklahoma State is looking worse by the week and with Texas Tech having issues of their own, there is still some hope for Iowa State. The TCU game will be tough, but I don't think it is crazy at all to say that the Cyclones will beat Oklahoma State and Texas Tech over the next two weeks.